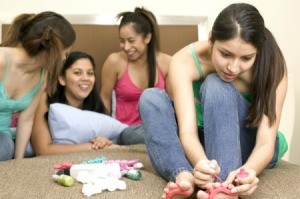 This is a fun idea for Mommies of all ages. Send out an invitation in the shape of a sleeping bag or a big pillow. Invite your friends to bring a sleeping bag and their best PJ's and come sleep with you.
No children or husbands allowed. Now go to the video store and rent the latest chick flick. Get a good bottle of champagne and make some great party snacks.
Pull out those curlers you haven't used in years and have a go at each other's hair. Remember it will all wash out in the morning. Read poetry or portions of books to each other or just gab.
For party favors, make small pillows shaped like bed pillows, adding lace to one edge. Also have a good old pillow fight. Fill the pillows with lavender and they will make a great sachet later. If you don't want libations at your party, you could get all the stuff to make hot fudge sundaes and have a good laugh.
By Debra in CO
Comments

October 15, 2004
0

found this helpful
Make up your own Trivia game using chick flicks as the theme. Who ever can answer the most questions could win a pair of fuzzy slippers. All of us have received beauty machines at one point or another. I have received a hot wax machine just last christmas. You could do manicures and pedicures and everyone gets to use your hot wax spa. See what others have been given, it will give you a chance to use that machine and everyone can have fun also.
By Debra in Colorado