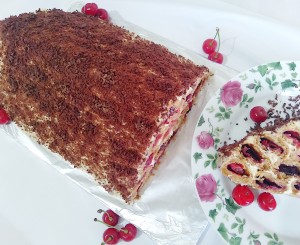 I want to share with you a recipe for a cake that everyone in my family loves very much. This cake has a pyramid shape, with so-called pastry "tubes" that have sour cherry (tart cherry) filling and sweet cream outside. This cake looks impressive, is very delicious, simple, easy to assemble and can be made ahead.
There are a lot of names for this cake, as well as variations. In the national Ukrainian cuisine, this cake has the name "Monastyrska hata" or "Monastyrska Izba" or Monastic Hut Cake. The pyramid shape of this cake truly resembles a traditional log house. 
In the national Moldavian cuisine, this cake has the name "Cusma lui Guguta" or Guguta's hat, since when sliced, this cake does indeed resemble a traditional shepherd's Astrakhan cap of lambswool worn by a little boy Guguta from children's tale by Moldovan author Spiridon Vangeli.
Sweet cream and the sour cherry filling inside tender tubes make this cake very tasty.
Prep Time: 2 Hours + time for cooling and so on
Cook Time: 30 Minutes
Total Time: 2 Hours 30 Minutes + time for cooling and so on
Yield: 10
Link: https://www.chefspencil.com/recipe-monastic-hut-cake/ 
Supplies:
Dough:
0.88 lb  (400 g) flour 
7 oz  (200 g) butter 
0.85 cups (200 ml) sour cream 
1 Tbsp vanilla sugar 
2 tsp baking powder
Cream:
2.96 cups (700 ml) sour cream 
0.66 lb (300 g) powdered sugar 
a piece of dark chocolate
Cherry filling:
2.2 lb (1 kg) sour cherries
0.33-0.44 lb (150-200 g) sugar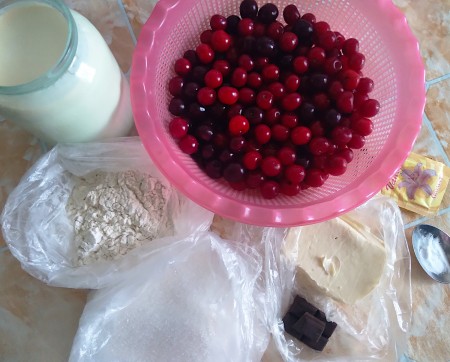 Steps:
Cherry
Wash and pit the sour cherries. I had two varieties of cherries, so I decided to mix them.

If you use frozen cherries, thaw them at room temperature first.

Cover the sour cherry with sugar and leave for 20 minutes.

Bring the cherries in their own juice to a boil.
Use a wooden spatula to avoid oxidation and loss of vitamins.

Strain the cooked cherries and leave to cool.
Instead of fresh sour cherries, you can use candied cherries.
Dough
Mix the flour with baking powder, then add the softened butter, the cream, the vanilla sugar and knead thoroughly. You need to knead the dough quickly, otherwise the butter will melt and the dough will be sticky and you will want to add more flour, but then the baked tubes in the cake will not be so tender. The dough should not stick to your hands.

Put the dough in a plastic wrap and place in the refrigerator for 20 minutes.
Cream
If you use sour cream, put it on a piece of cheesecloth and then in a colander to take out the excess liquid. Leave in the refrigerator for 30-60 minutes. This will thicken the sour cream even more.

Add powdered sugar and whisk the cream to achieve a thick texture. It should not be hot in the kitchen.

Cover the cream and place in the refrigerator.
Tubes
Divide the dough into 3 pieces, then divide each piece into 5 more balls. In total, you should get 15 balls of dough.

Place the dough balls in plastic wrap and then in the refrigerator.

Cut a piece of baking paper to the size of the baking sheet.

You need a rectangular, flat dish, but if you don't have one, you can wrap a cutting board in foil.
Roll out the dough strips on baking paper (4 strips on one baking sheet). The length of the strips should be slightly less than the size of your dish (or of your cutting board if you use it instead of a dish), but not longer than the baking sheet. It is better not to add flour when rolling. You can do this with your fingers, but it's better to work with gloves to prevent the butter from melting so quickly.

Turn on the oven at 360 degrees F (180°C).
Place the cherries in a row in the middle of the strip (see photo) and connect the edges of the strip to form a tube, seal it (at the ends too).
Turn the tube with the joint down (roll), leave 1 inch between the tubes.

Form tubes from other strips in the same way.

Add another strip and form a tube out of it. In total, you will get 5 tubes on one baking paper / sheet.

Transfer the baking paper with the tubes to the baking sheet.

Bake the tubes for 10 minutes in a preheated 360 degrees F (180°C) oven until golden.

Cool the tubes on a flat surface. Be careful when removing the tubes as they are fragile.
Make and bake two more baking sheets of 5 tubules per each. You should have 15 baked tubes in total.
Assembling
Place 5 tubes as the first layer, smear the tubes with cream.
Then place 4 tubes on top as the second layer, and smear again with cream.
Then 3 tubes as the third layer, 2 tubes as the fourth layer, and 1 tube as the top layer, smearing each layer with cream.

Grate the dark chocolate and sprinkle the cake on top.

Let the cake sit for 10-12 hours in the refrigerator (better overnight).
Make a cup of strong Americano coffee and enjoy a generous piece of your Monastic Hut cake.
Add your voice! Click below to comment. ThriftyFun is powered by your wisdom!

July 29, 2022
0

found this helpful
This cake looks really impressive. Thanks for sharing! My daughter loves anything made with cherries, so, I want to make this cake for her.
I don't quite understand why the link is given, since your recipe is different from the recipe in the link.

July 30, 2022
0

found this helpful
There are many variations of this cake. I am sharing my recipe, I added the link in the introduction just to give an example of another variation of this cake. In some recipes, pitted cherries are not cooked, but left for 30-40 minutes, then the juice is drained. But in this case, very often a lot of juice is released when baking tubes, then it is very difficult to assemble the cake. In the recipe from the link, water and starch are added to the pitted cherries and it is boiled for 5 minutes, but I do not like this. I find that cherries release enough juice and water is not needed, cherries do not need to be boiled for so long, the starch changes the taste a little. I also figured out how to make the tubes easier to avoid transferring from the table to the baking paper, as the tubes can be easily damaged.
I am glad to share with you my recipe of this cake!

July 29, 2022
0

found this helpful
I saw this cake demonstrated on YouTube last week and I saved it. I'm going to replace that recipe with yours because the one I have is in either German or a Middle Eastern language (I love all kinds of cooking shows on YouTube); yours will be so much easier to follow. Thank you so much for this recipe!

July 30, 2022
0

found this helpful
Thank you!! I also like video recipes on YouTube. :-) I am glad to share with you this recipe.
Add your voice! Click below to comment. ThriftyFun is powered by your wisdom!