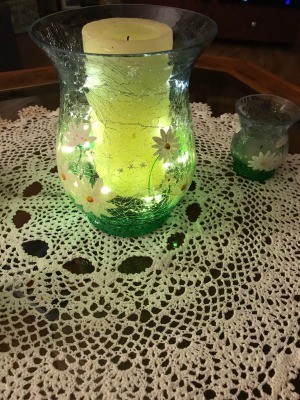 The other day, I read an article on the increase of depression due to people having to stay in the house. I liked this one particular idea, it said to use mood lighting. I read on and they said to just get out some clear small Christmas lights and put them in a room where you spend a lot of your time.
So I tried it, and the first thought I had was that it gave me a good reason to do some spring cleaning. I spent some time cleaning the glass tops of tables and proceeded to wash two pieces of crystal. (See how effective this idea was)? I think someone was kindly telling me to get some spring cleaning done! :)
Then I found a very miniature set of lights and a small set of lights. I brought out a few spring pieces (decorations) of glassware for my coffee table. I wrapped the mini lights around the candle in the middle. And the lights are battery operated. Then I used the small lights on the black glass top console beneath my TV. I washed and polished my crystal pieces and put them back on the console and put the lights behind them.
The nice calming relaxing effect is so very nice! I just love it! It is like the feeling you get when you first light your Christmas tree! You find yourself staring into it! I thought this was a simple smart idea for any tension or depression! I also have a lava lamp I use for mood lighting! They are very inexpensive at Amazon. Try it, you may feel a little better too! And you also might find yourself getting your spring cleaning done!