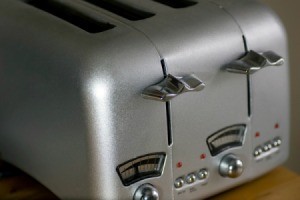 There are so many small appliances, one for every conceivable use. What are the ones that you really can't do without? The ones that you use more than once or twice a year and that you would just have to go out and buy again if you should donate it.

Answers
December 8, 2005
0

found this helpful
Just what I need! Another counter hog.
I agree, the Foreman grill is a great appliance, and easy to store. The new one has plates for all kinds of things, like waffles.
I like my Cuisinart Toaster, Toaster Oven, and Convection Oven. It's used daily. One footprint instead of three.
Also, my Cuisinart Coffee Maker. I sound like a Cuisinart fan. Every day for 4 cups for me and DH.
Can live without the Bravetti Food Processor, since I learned how to really chop by hand by watching chefs on TV.
Use Lazy Susans everywhere, every day. Excellent space saver.
February 1, 2006
0

found this helpful
I love my KitchenAid stand mixer. It was a "Dream" gift a few years back from my husband (I'm the type who prefers kitchen toys to jewelry) and I use it several times a week. I have some of the attachments, but I like the meat grinder and cheese grater the best. Pricey, yes, but it paid for itself in the long run because I use it so much. Oh, and I keep it on the counter. If I had to lug it out every time I needed it, I'd never use it. So the bread machine is stored to make room for the mixer, LOL! I also keep it on a towel so it is easy to slide around.
July 25, 2013
0

found this helpful
LOL, I'm late to this party, but the three most useful small kitchen appliances I would have to immediately replace are:
Toaster! 2 or 4 slice, this has got to be the most used small kitchen appliance ever!
Electric can opener with knife sharpener. No kitchen should be without one.
Electric hand mixer with stainless steel beaters. I've had the fancy food processor. Had the extremely expensive but used maybe once every couple of months stand mixer. But my little electric hand mixer is used every day at least twice.
Do splash out for the model with the stainless beaters to avoid icky chrome (or paint, a lot of time those chromed beaters are base metal painted to look like chrome!) flaking into your mix. Eew.
Answer

this Question