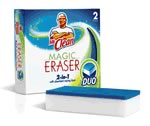 I have used a Mr. Clean Magic Sponge on everything. It takes out dirt, nail polish, marker, crayon, grease, scuff marks, even sticky stuff. Recently my daughter hung up a poster and it had those sponge stickers on the back to hold it up. Well, the poster wouldn't stay so we took it down. Unfortunately the sponge stickers stay on the wall. I tried everything to get them off and only the Mr Clean Magic Sponge would work. I love it and will always use that before a regular cloth!
By Jennifer from Holland, MI
Read More Comments
I'm from Australia and recently I saw mention of a product called Mr. Clean Magic Erasers. I don't know if it's the same product as we get in Australia but I thought I'd submit this tip anyway. Our product is called Chux Magic Erasers.
They are chemical free and come in little cubes (6 in a packet). They're hard to describe... but all I can say is that they are white and soft to touch and crumble if held too hard.
We use them to get marks off flat surfaces (brilliant for felt tip pen marks and even permanent marker). A lot of people renting houses use them.
If there are any of you out there who have stubborn marks, the $2.98 Australian they cost is well worth the money. One cube lasted me quite some time. A friend of mine had her twins draw on the walls of the house she was renting and she had a rent inspection (i)that(/i) afternoon.
Also, when we moved in to the house we bought we found a smiley face that we tried to get off with normal methods. Then a friend came online on my FlyLady group and told me about this new product she had tried. We went out and got a packet and tried it and haven't looked back. That mark is nowhere to be seen and it was there for 2 years and goodness knows how much time before that.
When we had success with that mark, the girls went to work in their bedrooms where the previous tenant's children had run riot with pens and pencils. I still had to repaint their walls as the paint was peeling, but at least the marks were gone and I didn't need to use an undercoat.
So, if any of you Aussies out there want to know how to beat those rent inspections or to spruce up tired looking walls and flat surfaces, why not try them. It just might save you some elbow grease and stress.
Cheers
Bev
Read More Comments