I don't think these hummingbirds can be classified as my pets but I didn't know where else to put them! We feed up to 40 hummers all through the day at my house. I have 3 feeders and most of the time they sit shoulder to shoulder.
I make 12 cups of food for them daily and they use it all! We're working on having them light on our fingers!

By Judi from Elgin, OR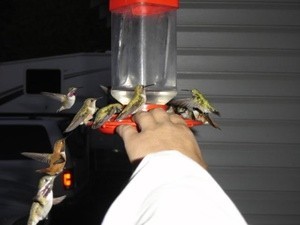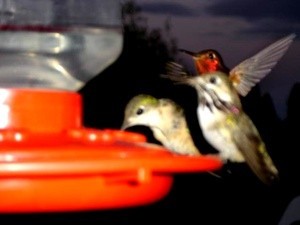 Answers:
My Hummingbirds
They are so sweet. I hope they get to sit on your finger. What kind of food do you make them? (07/10/2008)
By Suejaney
My Hummingbirds
Love the pics! They are so sweet! They must be very plentiful where you live! But I bet there are more than 40. (07/10/2008)

By Karen Lawson
My Hummingbirds
Thanks for posting. Tell us how are you making your mix! I love them! (07/10/2008)

By Cin
My Hummingbirds
Amazing photos, enjoy your pets! (07/10/2008)

By Sandee
My Hummingbirds
WOW. These are come awesome pics. Thanks so much for sharing.
(07/10/2008)

By dru
My Hummingbirds
WOW! Thank you so much for sharing. Beautiful little creatures aren't they? (07/10/2008)

By dru
My Hummingbirds
I get 4 cups of water to a boil, add and stir in 1 cup of sugar, then let cool or it will melt your feeder! My research says don't add coloring because there is something in it that can cause them to develop a fungus on their tongues and beaks and they can't eat. I don't find them reluctant to accept clear water because the feeders are red. In fact, if I go out at feeding time (mostly early morning and late evening) with a red shirt on they will swarm me and light on my shoulder for a second until they see I'm tasteless! (07/10/2008)

By Glenn'sMom
My Hummingbirds
That is absolutely amazing and oh so beautiful. Thanx for sharing. (07/10/2008)

By debbie
My Hummingbirds
How do you keep ants out of the nectar? My feeder is on a shepherd's hook on the deck and I can't stop ants from crawling up the hook. (07/10/2008)

By tootic
My Hummingbirds
You have very social, friendly hummers in your neighborhood! I have two feeders and my hummers will not share a feeder at the same time! They're very territorial and I've seen them get very angry and go after one another to keep a feeder all to themselves! As it gets later in the summer, and they're getting ready to migrate, you have to duck so you're not clipped by one of them. It's like a miniature "Top Gun" and hilarious to watch!
Thanks for sharing these wonderful pictures and send your hummers my way to teach mine some manners! :-) (07/11/2008)

By Mary Moo
My Hummingbirds
Note to Tootic: Buy an "ant moat" for use with your feeder. I've seen them at Lowe's, Farm and Fleet, those kind of retailers. It holds water with a slight bit of oil and ants can't get past it to get to your feeder. (07/11/2008)

By Mary Moo
My Hummingbirds
They are wonderful. I am feeding a fledgling robin right now. Found him, the nest destroyed in a storm, he was featherless and almost dead. I gave him bird handfeeding formula and now I have to go to the park to find enough worms to feed him. He flies now, I call him and he comes for a feed. Problem is, he is not afraid of people and has begged at my neighbors too. I had to tell everyone he belongs here, for now. I hope he wilds up in time for the migration. He is cute when he comes flying down from the trees to me, but I am ready to see him go and find his own food. So far he is not very good at it. But I will keep digging up worms and bringing them home as long as he needs me. (07/11/2008)

By valery
My Hummingbirds
To Valery: You can try setting a sprinkler in your yard to bring worms closer to the surface. Then turn the water off, call the bird down, and you both hunt for worms. Maybe you scratch awhile and he sees a worm and he gets the idea. Just a thought. (07/11/2008)

By Glenn'sMom
My Hummingbirds
That's just so adorable. Round of applause to you!
(07/11/2008)

My Hummingbirds
Tell us what you are feeding them. Please. (07/11/2008)

By cosy Duvall
My Hummingbirds
Sorry, thought I had already answered that but guess not. I bring 4 cups of tap water to a boil. add and stir in 1 cup of regular sugar. Stir until dissolved. Let cool, fill feeders and refrigerate the rest. Don't add coloring because I've been told that red coloring has something that can cause a fungus on their mouths and they can't eat. Mine gobble it down and the feeders are red anyway. When I go out to refill the feeders they will light on my shoulder if I have on a red shirt and then fly off when they realize what a tasteless ole bag I am! (07/12/2008)

By Glenn'sMom
My Hummingbirds
Judi! Those are the best pixs! I adore hummingbirds! Sweet little things! I'm so amazed by the numbers you attract. Can't wait for the post when they land on your fingers! Post them won't you!
(07/13/2008)

By Jennifer CA
My Hummingbirds
Hi Judi, how lucky you are to have hummingbirds at your home! I'm not sure what kind of a camera you have, but you could get those second and third up-close shots of the birds clearer if you want. Most digital cameras have a mode called "macro" which is depicted by a little flower symbol. On my camera I just have to push the button that turns on that mode and then I can shoot pictures closer than arm's length. I never knew my camera had that capabilty and once someone told me, it changed the way I take pictures! Have fun! Kathy (07/15/2008)

By khilde80
My Hummingbirds
Absolutely amazing! I've only seen one or two over here in Baltimore City, Maryland. Your pics are a great shock! Never in a million years would I have thought they would all sit around like that, and get so near your fingers and hands. Very sweet bunch and thank you so much for your post and pics :D (01/20/2009)
By JoAnn
My Hummingbirds
I have never seen anything like this. Unbelievable! We have a lot of hummers too, but not even the babies want you near them. In fact, they are so territorial that they don't want to be near each other. (08/26/2009)

By userstewarl