The hummingbirds are plentiful in VA. They are amazing to watch. I often would hold this cup in my hands, and they would drink from it, but I couldn't get a picture. So I sat the cup down on the porch ledge, hoping they would come, and they did!
I'm less than 18 inches from this one. I have a series of shots, from where he began to come in, and then posing for a final shot, with his wings wide open as if to say "Thank you" before fluttering off.

By Sandy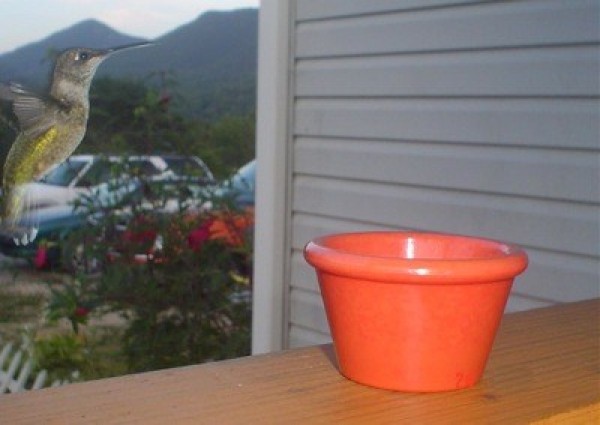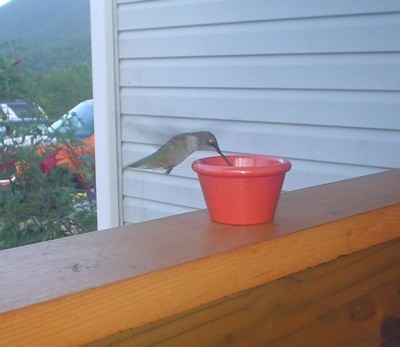 Answers:
Wildlife: Hummingbird
What a one of a kind photo. Beautiful. Thanks for sharing. (05/24/2010)

By keeper60
Wildlife: Hummingbird
I don't know how you did it, those guys are fast! Great shots! My dad absolutely loved hummingbirds. He would sit and watch them on his porch for hours and tell me all about it. Good memories, thanks! (05/25/2010)

By PainterLee
Wildlife: Hummingbird
Lovely! Are those the Peaks of Otter in the background? (05/26/2010)

By shryoung
Wildlife: Hummingbird
Thanks for all the compliments. shryoung-The farthest peak is Adams Peak, can't remember what the other one is.

Painterlee- I too watch them for a long time, they are amazing little creatures. You just sit still and snap, snap, snap. I have a series of about 6 shots at this one sitting.

keeper60-Thank you! I may be a wedding planner/ decorator, but my 1st love is photography. (06/06/2010)

By sandy2009