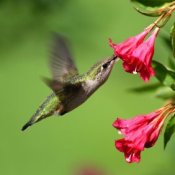 Their iridescent, jewel-like colors and unique behaviors make hummingbirds some of the most fascinating birds we can attract to our gardens. Making a hummingbird garden is easy. All you need to do is get their attention with the right kind of foods. Once they discover your garden as an attractive feeding and nesting spot, they will continue to visit faithfully year after year.
A Little Bird with a Big Appetite
Despite their small size, hummingbirds are extremely strong fliers. Their migrations take place over several weeks (sometimes months), and often result in the tiny birds traveling distances of thousands of miles as they follow the blooming season of their favorite flowers. In preparation for these long treks, hummingbirds must build up fat reserves and increase their body size by as much as 50%. Even when not migrating, hummingbirds need to eat large quantities of food to fuel their speedy metabolism. In forward flight, a hummingbird can beat its wings as much as 75 times per second!
Two Main Sources of Food
Hummingbirds get their food from two major sources: flower nectar, and small insects and spiders. Although you will see them visiting flowers of all colors, scientists believe hummingbirds are most drawn to tubular-shaped flowers that are bright red, pink, and orange. The most important thing you can do to attract these birds to your garden is to plant flowering annuals, perennials, shrubs, and trees, and offer them supplemental nectar from a hummingbird feeder.
Planting for Hummingbirds
Flowers provide nectar for hummingbirds, and they also attract the small insects and spiders that are an important part of their diet. In return, as the birds make their rounds, they provide an equally important service for the plants-pollination. While drinking nectar, a bird's crown, bill, and throat are showered with pollen, which is then transferred to the next flowers the bird visits.
Hummingbirds prefer brightly-colored (especially red!), nectar-producing flowers with a tubular shape (think trumpet vine, bee balm, or salvia). If you haven't had hummingbirds in your garden before, start out by creating loud splashes of red. Plant window boxes or set out pots filled with long-blooming annuals and tender perennials like petunias, impatiens, and geraniums. Their flowers will bloom for months, so visiting birds will always find something to eat.
To maximize the effect of plantings in your garden, try to plant flowers in clusters rather than scattering them about. Arrange the plants with the taller specimens in back so that you will have an unobstructed view of the birds' activities.
Plants that Attract Hummingbirds
Hardy Perennials
bee balm (Monarda didyma)
catmints (Nepeta spp.)
columbines (Aquilegia spp.)
coral bells (Heuchera sanguinea, x H. Brizoides)
delphiniums (Delphinium spp.)
hyssops (Agastache spp.)
penstemons (Penstemon spp.)
phlox (Phlox paniculata)
pineapple sage (Salvia elegans)
salvias (Salvia spp.)
Annuals and Tender Perennials (many will self-sow)
cleome (Cleome hassleriana)
four-o'-clocks (Mirabilis jalapa)
geraniums (Pelargonium x hortorum)
geraniums, scented (Pelargonium spp.)
impatiens (Impatiens wallerana)
nicotianas (Nicotiana spp.)
petunias (Petunia spp. and hybrids)
tithonia (Tithonia rotundifolia)
Shrubs and Vines
butterfly bush (Buddleia davidii)
flowering quince (Chaenomeles speciosa)
fuchsias (Fuchsia spp.)
mandevilla (Mandevilla splendens)
trumpetvine (Campsis radicans)
Hummingbird Feeders
Hummingbird feeders are nice because you place them where you want them-where the birds are easy to observe. They also provide the birds with a source of food early and late in the season, when not many flowers are in bloom. When setting up a feeding station for the first time, choose a feeder with the brightest, gaudiest red plastic parts you can find to attract the birds' attention. As soon as the hummingbirds catch wind of their new food source, you can always tone it down. Before buying a feeder, make sure to examine how it comes apart. Choose a style with removable parts that are easy to clean and maintain, and one that is designed to discourage flying insects.
Recipe for hummingbird nectar: It's easy to make your own hummingbird nectar and the formula is simple: 1 part white granulated sugar to 4 parts water. Boil the water, and then add the sugar and stir it until it dissolves completely. Let the solution cool completely before filling your feeder. Store any unused portions in the refrigerator. Do NOT use a honey solution in your feeders. Honey is more likely to encourage the growth of a fungus that can affect the tongues of hummingbirds. It's also not recommended to add red food coloring to the sugar water either. As an alternative, you can attach a red ribbon to the top of the feeder to capture the birds' attention with some color and movement.
Cleaning and maintenance: Every four or five days take the feeder down and clean it thoroughly using hot water and a little bit of vinegar to prevent mold. Scrub all parts of the feeder with a bottle brush or a toothbrush (especially the nooks and crannies), and rinse it thoroughly before refilling. During really warm temperatures, the nectar may start to turn cloudy (ferment), which is an indication you need to start to clean the feeder more frequently. You can also try hanging the feeder in partial shade to help prevent the sugar from fermenting so quickly.
Insect control: The sweet, sticky nectar in hummingbird feeders is also attractive to insects, including ants, flies, bees, and wasps. If you don't have an "insect-proof" feeder, a temporary means of insect control is to turn a fine spray from a hose or sprinkler on the feeder. Insects are discouraged by the water, and any sugar solution that has been dripped on the outside of the feeder is washed away. Another solution may be to temporarily move the feeder. Sometimes relocating the feeder just a few feet away is enough to convince insects that the food source has disappeared. Don't use oils or petroleum jelly to discourage insects, as they can end up coating the birds' feathers, and are nearly impossible to remove by preening.