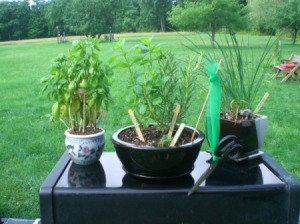 I started buying those reasonably priced small potted herbs that are sold in most grocery store produce departments year round (2 for $4) and thought they would make a great table centerpiece at home and for a bridal or new home shower or even for a natural style wedding!
Simply repot the herbs (I put mint and rosemary together and even added some thyme seeds- see photo!) into whatever style pot you want to use-they can be simple or color coordinated for your event.
Guests can take home a beautiful and desirable 'centerpiece' and have a living reminder of the event and so useful too!
We can use ours everday. We snip and add mint to our drinks and chives or other herbs (a snip of chives or a leaf of basil to our salads or sandwich, etc) right to our meals at the dinner table!
You may add little wooden stakes with the herb's names and I even added a pair of scissors to snip off pieces, just to fancy it up. So much nicer then some of the centerpieces I have seen left at events because they were so unwanted.
As an added bonus, the mint is even a "natural" room freshener that releases a lovely natural and relaxing scent in the room too, especially when the leaves are gently rubbed!