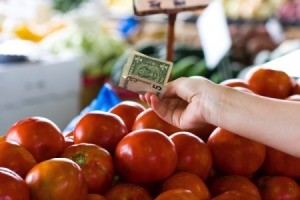 Years ago, I read an article suggesting the "need, love, or want" rule when making purchases. This has worked well for me and I'd like to share my experience.
When shopping for any item - even groceries, I can ask myself, "Do I really need this?" Obviously, we all need healthy food like vegetables, fruits, lean meats and grains, so that's a no-brainer. This sure eliminates the junk; chips, cookies, most processed foods like sugary cereals, and box mixes that contribute more chemicals than anything else.
Buying clothes and small household appliances - things we use every day - is much easier when I use this rule. Do I really need another tee shirt, jacket or pair of jeans, or that new blender or coffee maker, or do I just want it? Do I just love it? Will it make my life better, and is it worth the outlay? I've learned to ask myself these questions automatically. It's amazing how easily I can walk away from many purchases I would have made and regretted.
For big ticket items like furniture, major appliances, cars, splurges like a vacation or sports equipment, even new houses, the same rules apply. Do I really need a newer, bigger and more expensive house or am I just trying to fill an inner need? Does the car I am looking at fit the "real me" or am I trying to impress someone else? Do I need all the bells and whistles that come with a fancy new washer and dryer, or would the simplest model work just as well? Do I really love that new sofa, chair or desk, or am I just tired of the status quo and want to switch up a bit? Will a Club Med vacation give me happy memories for a long time to come, or am I searching for a break from the ordinary that can be satisfied in other, less expensive ways?
Asking myself why I want to spend has helped me to save not only dollars and cents but a lot of time and energy with items and experiences I didn't really have to have. I highly recommend this method of budgeting.