New Life for Old Cabinet
I had this little cabinet next to my living room chair for a while. Then I went to a friend's house and saw that she had a similar little one in her bathroom. I was inspired! And then I went to work.
Total Time: 3 Hours
Supplies:
1 cabinet ($5.00)
2 artist's brushes ($.25)
2 foam brushes ($.20)
2 paint and paint tubs ($.50)
scissors
hot glue
4 mini doilies ($2.00)
1 scrap lace valance
dresser scarf from my great grandmother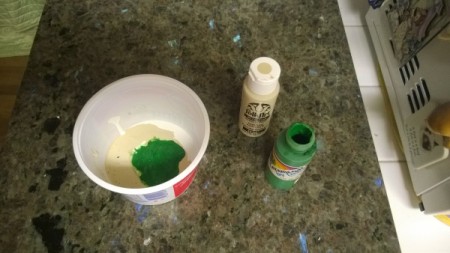 Steps:
The first thing I did was clean it. When that was done and I let it dry overnight, then I painted the first coat.
Now you need to know that all I had to work with was ceramic/artist paints. And the first night, I didn't have the foam brushes so this really was a labor of love. I don't recommend it. Make quick work of your project with the right tools.
I mixed the green and the cream and some white to make a unique color just for my bathroom decor. Luckily I had the amounts I needed as it was all I had of the white. I didn't care if the inside was darker so I went with what I had.
With the foam brushes, it was much faster and easier and the paint lasted just to the end of the project. I don't think I had enough to cover a Q-tip.
I let it sit overnight and today finished the inside. I mixed some more green and cream for the interior and had just enough for the sides and the back. So it was a toss up as to what to do with the bottom. Paint it, use scrap booking paper? Lace? Well, the lace won out. I had to custom cut it, but I think it turned out nice.
I put my pretties back up and used a spot of hot glue to put the mini doilies on the door. All in all, for about 10.00 and a few hours of time, I think it came out pretty cool. N-JOY!
Add your voice! Click below to comment. ThriftyFun is powered by your wisdom!
Add your voice! Click below to comment. ThriftyFun is powered by your wisdom!