Julia
Bronze Post Medal for All Time! 146 Posts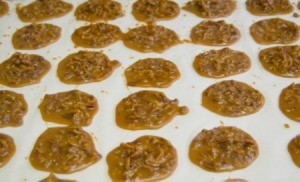 There are several different recipes for pralines from several different regions of our country. I think originally, pralines came from New Orleans though, and if there is a recipe anywhere that can beat this one, I sure would like to find it.
Being a southern girl, I grew up with pralines that my Alabama-born Mother made every year, and this is the recipe she used with one exception. We bought whole milk from a home dairy which delivered it to our door 3 mornings every week. Mother used the cream from the whole milk rather than the Golden Key evaporated milk in the can cabinet. That GK milk was saved for mashed potatoes.:-) (The labels had coupons on them that we clipped, but I've forgotten what we got with the coupons. Maybe someone will remember and tell me. I hope so.)
We only had pecans available to us in the fall, and there was no such thing as buying them in a bag already shelled. At least, I never saw any. We would shell fresh pecans that came from north Florida or Georgia in the evenings while listening to our little table model Airlines radio. "Mr. District Attorney", "The Shadow", "The Squeaking Door", and some other favorites kept us kids quiet and huddled in a group for safety's sake. The grownups would be either in the kitchen drinking coffee or out on the porch with cigarettes.
In my oldest, sweetest, and deepest memories, I am rocking in a big old wooden rocking chair out on our front porch nibbling on a freshly made praline. For me, they will always be the "food of the gods".
Ingredients:
1 cup granulated sugar
1 cup packed brown sugar
1/2 cup evaporated milk
4 Tbsp. butter, cubed
2 tsp. vanilla extract (Watkins, of course)
1 1/2 cups toasted pecans, coarsely chopped
Directions:
Lightly butter a baking sheet large enough to hold all the pralines, or you might need to butter a couple of platters. Today, I would use aluminum foil on my pan lightly buttered.
Mix the white and brown sugars with the evaporated milk (or heavy cream if you have it), in a pot large enough to allow it to boil up without boiling over. Stir until the sugars are all melted, and cook on medium heat until a candy thermometer reaches 240 degrees F. Stir occasionally until it reaches that mark.
Once your mixture reaches the 240 degrees, remove it from heat and drop in the butter, but do not stir it in. Allow it to just sit on top until the mixture cools a little. About a minute or two, add the vanilla along with the chopped pecans and stir.
Using a wooden spoon, continue stirring nice and easy until the candy begins to thicken up. It doesn't take long. The candy will get very thick and turn lighter in color.
Soon, the candy will start to firm up and hold its shape. Just keep stirring slow and easy, but watch that it doesn't start to harden on you. If it's holding its shape really well and is noticeably lighter in color, it's time to start putting it in small mounds on the buttered pan or platter.
Work fast as it will harden up on your very quickly. If it does, just add a teaspoon of hot water to it and stir it until you can still get it out of the pot with a spoon and onto the prepared baking sheet.
Let your candy set out at room temperature for about a half hour, then store it in an airtight container. It can be kept out at room temperature, but you should probably hide it from sight - that is if you plan to get any of it. Once everyone knows it's in there, it's not going to last very long at all.
Note from Julia Cooking time is going to vary with just about every cook. Much depends on the stove burner's heat setting, and how long you're willing to stand there and let it cook slowly. I also include the stirring time in with the cooking time since it's so related. It's not finished until it's candy on the pan or platter.
Also I must say that the size of the dollops of candy has a lot to do with number of servings, as well as how many people it would make happy. I get about 30 pralines from my "batch", and I do add more pecans sometimes.
Servings:
20-30
Time:
20 Minutes Preparation Time
40 Minutes Cooking Time
Source: My Mother gave me the recipe which had been given to her by her mother when they were still in Alabama. They moved to Florida in 1926 when my mother was just 12 years old, and she was already making the pralines for the family. I know for sure neither of them ever had a candy thermometer, so they had to be pretty good at telling when it'd cooked long enough. Probably softball stage, but I'm not sure about that.
By Pookarina from Boca Raton, FL
Read More

Comments