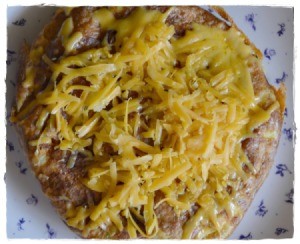 This is an adjusted version of the Spanish omelet. It makes for a hearty meal, so it works well for a brunch when served with toast.

Total Time: 45 minutes in total
Yield: 2 servings
Ingredients:
3 eggs, beaten
cheese flavored smoked frankfurter
medium sized potato
½ teaspoon dried sweet basil
¼ teaspoon grinded black pepper
¼ teaspoon Knorr Aromat Seasoning or ordinary salt
grated cheddar cheese to taste
cooking spray
Steps:
Boil the potato until tender. Drain the potato and allow to cool for 5 minutes. Peel and cut into thin slices.

Boil the frankfurter for 5-6 minutes and drain. Allow to cool for 5 minutes and cut into thin slices.

Mix the beaten eggs, basil, pepper and salt. Add the sliced potato and sliced frankfurter to the egg mixture.

Spray a 6" frying pan with cooking spray. Add the mixture to the pan and over a medium heat, cook until golden brown on the one side.

Use a spatula to flip it over. Sprinkle grated cheese on top of the omelet. Cook until the cheese has melted and the other side is golden brown, too.

Slide onto a plate. Cut into slices and serve warm with toast.
November 13, 2016
1

found this helpful
Top Comment
I prefer firm, fleshy potatoes like Yukon Gold, and don't waste the peel that has the flavor and the vitamines, so I just boil them for 2-3 minutes, and slice them really thin.
I also put paper thin slices of onion in there.
The franks or Wieners don't need to be boiled at all. They have been boiled at the factory. Just slice them thin and toss them in.
However, the Knorr Aromat has MSG, or used to, so I avoid that. Seasoned salt with garlic works very well.
Instead of the expensive cooking spray I just put a knife tip of butter into the pan. Tastes a lot better!
Have FUN!
DearWebby