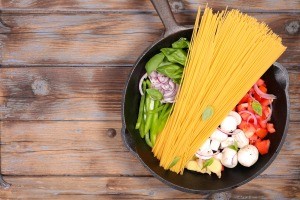 Ingredients
1 chuck roast (any weight will do)
2 packets of Lipton Onion Soup Mix
2 cans of Cream of Mushroom Soup
2 cups HOT water
1 Tbsp. of "Gravy Master" or "Kitchen Bouquet"
Your favorite veggies*
* For veggies, I use:
3 or 4 medium sized onions, quartered
3 lbs. unpeeled potatoes, cut into halves or quarters depending upon the size
1 lb. chunked up, peeled carrots (just cut them into 2 inch lengths)
1/2 to 1 lb. of raw mushrooms, sliced
Directions
Pre-heat oven to 325 degrees F. Mix the soups, Gravy Master and water together in the bottom of a large, roasting pan (I use a foil pan and put it on a cookie sheet, so it doesn't bend when you try to put it in the oven). Add the roast. Then add the potatoes, carrots, mushrooms and onions by scattering them all around the roast in the gravy mix. Cover the pan with heavy-duty foil, crimping it around the edges of the pan to seal it completely. If it's not sealed two things may happen. The steam will get out, which will dry out the meat, or the steam will stay in just fine, but the gravy will bubble up and make a mess in the oven. Stick it in the oven for 4 or 5 hours. Remove it from the oven and let it rest for about 10 minutes. Don't open the cover until the end of the 10 minutes. The steam will burn you! Then take out the roast, carve it, but let the vegetables stay in the gravy. It's ready to serve right from the pan. So easy, and everyone will delight in it!
Back when I was making this on Saturday nights, at Christmas time, my friends would present me with oddly shaped, wrapped gifts, with the admonishment of "Don't put this under the tree, put it in the freezer!" Of course, it was meat, so we could all continue to enjoy the sharing of a wonderful meal and great conversation. Making memories is the best dessert ever.
By Polly Levesque from Cedar Springs, MI

When we had a family of 7 with regular visits from friends I thought nothing of using 5 saucepans to prepare a meal but now it is just my husband and myself I resent washing up all those pots. Has anyone got any good one pot recipes suitable for two oldies? We like to include meat or poultry and veggies.
Alinci from Australia
Answers
By angellface. (Guest Post)
May 4, 2006
0

found this helpful
Best Answer
I make Beef stew, Chicken Soup, Pea Soup. All three are one pot with as much vegetables and meat galore.
By Mary. (Guest Post)
May 4, 2006
0

found this helpful
Best Answer
This is so very good. I got it from a Family Circle or Woman's Day magazine. The brackets are what I used and both my husband and I loved it. I also added turnip and someone else suggested you could throw in parsnips. Very, very tasty!
Sweet and Spicy Chicken and Veggies
4 servings
1/4 honey (or corn syrup)
2 Tbsp Dijon mustard (or cranberry mustard)
2 Tbsp. melted butter
2 Tbsp. curry powder (or a bit less)
2 tsp. cumin
1/2 tsp. cayenne
1/2 tsp. salt
4 chicken legs, skin removed
1 1/2 pound small red potatoes, scrubbed and halved (or regular potatoes, peeled, cut into chunks)- 3 or 4 potatoes
1 pound carrots, cut into thirds, halved lengthwise if thick. 4 or 5 carrots
3 medium onions cut into wedges (can be omitted)
Heat oven to 425*. Line baking sheet with foil. Coat with non stick spray
Mix first 7 ingredients in a small bowl. Put chicken and veggies onto baking sheet. Spoon on the spice mixture.
Bake at 425* for 25 minutes or so until chicken is done and vegetables are tender


May 5, 2006
0

found this helpful
Best Answer
I often prepare our meat (chicken, chops, steaks, burgers) on the grill - even in colder weather. And I've become VERY partial to making baked potatoes or sweet potatoes in the microwave. Canned vegetables warm up nicely in the microwave, although I still prefer to boil fresh or frozen veggies. Still, it's the only pan I use. When making rice or pasta, make enough for a couple of nights and warm up in the microwave for the next meal. And of course, the slow cooker is a great option for at least one meal per week.
Try cooking a turkey breast in the slow cooker - just put it in there wit NO liquid; season w/poultry seasoning - it tastes like rotisserie! Or put the turkey in the pot with a cup or two of long cooking rice, a can of cream of whatever (your favorite) soup and a can or 2 (depending on how much rice) of water. You can also add your favorite veggie to this dish. It comes out wonderful.
Enjoy experimenting!
slw

May 5, 2006
0

found this helpful
Best Answer
I make a hamburger stew that is quick and easy. My family loves it. When I was a kid, it was a recipe that my Dad would make when my Mom was away training as a lab tech. This recipe has been in my life for 40 years and it's still a favorite.
Brown some burger
Add, chopped carrots, chopped onion, chopped garlic, handful of frozen corn and peas and a can of sliced mushrooms with liquid.
Add enough water to cover slightly and simmer till vegetables are tender.
Make up some flour and water to thicken stew; add.
Season with salt, pepper, seasoning salt, (I use Hy's) and a tablespoon beef bouillon.
I serve this with mashed potatoes but my family loves it even on toast.
You can freeze leftovers in small containers for a quick lunch or dinner. I like this recipe because anything goes, You can mix and match just about any vegetable you have on hand.

May 8, 2006
0

found this helpful
Best Answer
Here's one that's easy and very good. I like to use leftover chicken breast but you could also boil some chicken and cut up or use the canned white meat chicken.
CHICKEN A LA KING
1 sm can mushrooms, drained
1 cup chopped green pepper
1/4 cup butter
1/4 cup flour
1/2 tsp salt
1/4 tsp pepper
1 cup chicken broth
1 cup milk
1 cup cooked chicken
1/4 cup chopped pimientos
Saute mushrooms and green pepper in butter. Blend in flour and seasonings. Stir till smooth. Stir in broth and milk. Add chicken and pimiento. Cook until thickened.
Serve over biscuits or toast. Serves 4
Answer

this Question