March 26, 2013
0

found this helpful
If you can find a long screw that fits the hole you can screw it in and pull. However you might not get an even pull. You can get two small screws, screw then in one on each side and use them as handles to pull out the drawer. If the edges of the drawer have been painted over they might be stuck. Take a small knife and go around the edges to cut the paint. Since you will have made two holes with the two small screws, use wood puddy to fill them in.
March 26, 2013
0

found this helpful
Have you tried sticking the hook end of a metal close hanger or an ice pick in the holes and then kinda pulling at an angle to open the drawers? I'd work with the top drawer first and then you'd have access to the second drawer.
March 26, 2013
0

found this helpful
Use a long nail or awl to put in the holes; ones that fit fairly snugly and that you can still remove later. then try pulling them open. Have you considered removing knobs from other cupboards or drawers temporarily and putting them in the holes?
Because of their location near a chimney, the drawers may be warped. Make sure the paint I see on them hasn't sealed them shut. If so, use a putty knife to go around the edges a couple of times, prying slightly as you go.
March 26, 2013
1

found this helpful
Get an old fashioned bottle cap opener,useful for
opening coke or beer bottles,place the hook of the
opener under the drawer (hook up)gently pry along several places it will open do the lower drawer first . Never be without these openers great for opening vacuem sealed jars to Go for it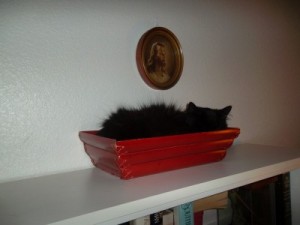 March 26, 2013
0

found this helpful
Try using the top of a wire hanger threaded into the holes for the knobs. You should be able to put one in each hole and, at the same time, pull it opened.
March 26, 2013
0

found this helpful
Get an old fashioned "molly bolt" from the hardware store - small enough diameter to feed through the hole, and long enough so you can unfold the "wings" inside the drawer. Then grab the "head" with pliers or vise grips and wiggle and pull... Good luck! Maybe there will be something FUN or valuable in the drawers?
March 27, 2013
0

found this helpful
If none of the other ideas work, how about trying a plunger to pull the drawer? You'd probably have to put it right in the middle. Good luck!