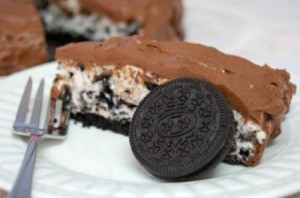 Ingredients
1 1/4 cups chocolate cookie crumbs
3-4 Tbsp. melted butter
2 cups whipping cream, divide
3 (8 oz.) packages cream cheese, softened
1 cup white sugar
24 Oreo cookies, divided
4 oz. semi-sweet chocolate
1/2 tsp. vanilla
whipped cream for garnish
Directions
Crust: combine cookie crumbs, and melted butter; press into 9-inch spring form pan. place crust in freezer. whip 1 1/2 cups whipping cream until still peaks form. Refrigerate until ready to use.
With electric beater, whip cream cheese until smooth. Add sugar and blend. Coarsely chop 24 cookies and fold into cream cheese and mixture. Fold in whipping cream. Turn filling into crust. Cover and refrigerate 4 hours.
Loosen cheesecake from pan. Melt chocolate in saucepan over low heat; cool slightly. Whisk remaining whipped cream and vanilla. Glaze top sides of cheesecake with chocolate mixture. Refrigerate until chocolate hardens. Cut into 10 pieces; garnish with whipping cream and cookie on top of whipped cream.
Source: http://www.cooks.com
By Britney from Edmond, OK