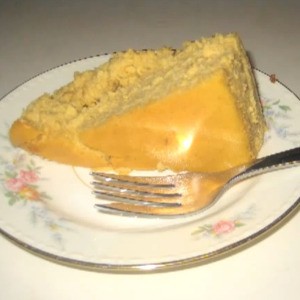 Ingredients:
Crust and Topping:
1 1/4 cups graham cracker crumbs
5 Tbsp. unsalted butter, melted
2 Tbsp. candied ginger, chopped
1/2 tsp. ground cinnamon
2 Tbsp. sugar
Filling:
2 (8 oz.) pkgs. cream cheese, at room temperature
3/4 cup sugar
1 Tbsp. flour
1 tsp. pumpkin pie spice
1/2 tsp. ground ginger
3 large eggs
1 cup solid pack pumpkin (not pie filling)
Directions:
Crust and Topping:
In a medium bowl, toss the graham cracker crumbs with the melted butter, sugar, and cinnamon until thoroughly combined. Place 1/4 cup of the mixture into a small bowl and add the candied ginger. (This will be the topping.) Press the remaining crumbs into the bottom of a 9 inch springform pan or cake pan.
Filling: Preheat the oven to 325 degrees F. In a large bowl, beat the cream cheese at medium speed until smooth. Add sugar, flour, pumpkin pie spice, and ginger and beat until combined. Beat in the eggs one at a time, and then the pumpkin puree until it is just incorporated.
Pour the filling into the pan and bake until set at the edges but still soft at the center, about 45-60 minutes. Turn off the heat; crack open the oven door and let the cheesecake cool inside for 1 hour. Remove cheesecake from oven and set at room temperature until completely cool, 2-3 hours. Refrigerate until chilled, about 4 hours. Garnish with topping and serve. Cheesecake can be refrigerated for up to 2 days.
By Robin from Washington, IA