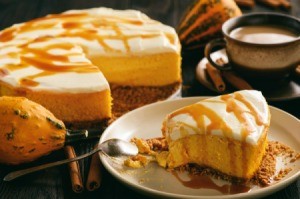 So good!
Ingredients:
Crust
1 1/2 cups ground gingersnap cookies
1 1/2 cups toasted pecans (about 6 ozs.)
1/4 cup firmly packed brown sugar
1/4 cup (1/2 stick) unsalted butter, melted
Filling
4 (8 oz.) pkg. cream cheese, room temperature
1 2/3 cups sugar
1 1/2 cups canned solid pack pumpkin
9 Tbsp. whipping cream
1 tsp. ground cinnamon
1 tsp. ground allspice
4 large eggs
4 Tbsp. purchased caramel sauce
1 cup sour cream
Directions:
Crust: Preheat oven to 350 degrees F. Finely grind crushed cookies, pecans, and sugar in processor. Add melted butter and blend until combined. Press crust mixture onto bottom and up sides of 9-inch-diameter springform pan with 2 3/4-inch-high sides.
Filling: Using electric mixer, beat cream cheese and sugar in large bowl until light. Transfer 3/4 cup mixture to small bowl; cover tightly and refrigerate to use for topping. Add pumpkin, 4 tablespoons whipping cream, ground cinnamon, and ground allspice to mixture in large bowl and beat until well combined. Add eggs 1 at a time, beating just until combined. Pour filling into crust (filling will almost fill pan). Bake until cheesecake puffs, top browns, and center moves only slightly when pan is shaken, about 1 hour 15 minutes. Transfer cheesecake to rack and cool 10 minutes. Run small sharp knife around cake pan sides to loosencheesecake. Cool.
Cover tightly and refrigerate overnight. Bring remaining 3/4 cup cream cheese mixture to room temperature. Add remaining 5 tablespoons whipping cream to cream cheese mixture and stir to combine. Press down firmly on edges of cheesecake to even thickness. Pour cream cheese mixture over cheesecake, spreading evenly. Spooncaramel sauce in lines over cream cheese mixture. Using tip of knife, swirl caramel sauce into cream cheese mixture.
Release pan sides from cheesecake. Spoon sour cream into pastry bag fitted with small star tip (do not stir before using). Pipe decorative border around cheesecake and serve.
Can be prepared 1 day ahead. Cover and refrigerate.
By Jodi from Aurora Colorado