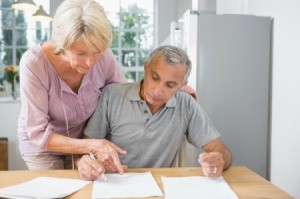 When I applied for Social Security benefits, I organized all my documents, correspondence and other pertinent information in a three-ring binder. Each piece of paperwork was placed in a plastic sheet protector.
Notebook paper was placed in the front section of the notebook to record notes of telephone calls made regarding my social security benefits. All transactions that were performed via the internet was printed and placed in the notebook.
Each month when my bank statement arrives by mail, I make a copy of it and highlight the deposit of the social security benefit check and place it in the binder.
At the time of my social security benefits interview, I presented my notebook to the interviewer for review; she stated that this type of notebook would be very helpful to her in reviewing my case.
By JOSE from Collierville, TN
Comments

April 27, 2010
0

found this helpful
Thanks for this great idea. My husband was just awarded SSI Disability and am trying to figure out how to take care of it all. What a great idea!

(Guest)
Gold Post Medal for All Time! 846 Posts
April 28, 2010
0

found this helpful
That's a very good idea and many people don't realize that you absolutely need your own paper trail because original paper records get lost at offices and computers crash. Without all the records you keep for your protection it could possibly become a nightmare.
Because I have to deal with a few agency's due to my disability and circumstances I use a zippered carrying case (photo attached) that is the perfect size for file folders and it's 6 inches deep so it holds many folders ;-) There is a folder for each agency, doctor, hospital, etc. and one that holds copies of miscellaneous items such as birth certificate, utility bills, bank statements, etc.
Each agency folder contains every document connected to them plus notes like you mentioned. With each doctor or hospital folder I do the same thing but I also always ask for printouts of all medical tests results and keep them in the appropriate folders too. Also prescription receipts.
Oh, and my best girlfriend of 43 years who works as a medical billing specialist told me early on to even keep expired medical coupons and I am glad she told me that because there have been a couple of times where a bill came in three or four months later saying I had to pay and stating I wasn't covered. Those monthly coupons were my only proof I was covered at the time of service.
I also write all names, addresses and contact phone numbers needed on the inside of each folder for quick and easy reference.
Anyway, whenever I need to go to an agency appointment or (hopefully not again for a long, long time) to the hospital emergency room everything possibly needed is in that bag for reference :-)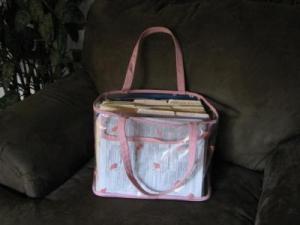 April 28, 2010
0

found this helpful
Wow, I need someone like you to help me keep my records straight! My visual impairment makes it impossible for me to independently read print and I'm not always at my adaptive computer.
Trying to work with hubbyon paperwork is a nightmare!