How many times have you come to realize that there isn't much in the house to eat even though you've just come back from the grocery store? With proper grocery planning, you can return with a house full of strong options and wallet full of cash.
Make a Plan
The first step is to make a meal plan for the week or even two if you shop less often. Label each day of the week and write what you plan to have for dinner for each of those days. Have the family pitch in with ideas. Don't forget the side dishes as well as desserts. Create a secondary list of lunch and breakfast options for the week as well.

Now create a meal plan that is flexible. Do you have a quick dinner that can be kept on hand in case you work overtime one day? Is there a meal planned that can be held off until next week without the contents spoiling just in case you decide to go out to celebrate on night? Did you save the more time consuming meals for the weekends or less hectic evenings? Is it a balanced meal plan with a variety of meals to please everyone?

Do Some Research
Scan the ads and coupons to see if items on your list are on sale. If beef roasts are on sale this week, why not substitute the stew for a roast instead? Also check your pantry for overstocked items and incorporate them into your meal plan. Lots of end of the season tomatoes? Maybe BLTs would make a quick supper before soccer practice.
If your week isn't filled with sumptuous menu options, flip through a cookbook and pull some interesting ideas from there. Only try one new item a week, though; too much of a new thing is often daunting during the working week.

Make the List
Pull together your research and meal plan to create the shopping list. List everything you'll need to make each meal and check the pantry for what you already have. Doing this will eliminate the need to run to the store midweek and the temptation to eat out because you didn't have enough tomato sauce for spaghetti. It will also save money because those quick trips on the way home from work may not be at the most frugal of stores, and gas is too pricey to run out for one item.

When making the list include everything for lunches, dinners, and breakfasts. Also include three or four options for the healthy snack. Instead of having the same options repeatedly, switch options each week. This week you might offer oranges and sliced pineapple after school, but next week might be peanut butter on celery. Again, cater the snacks to the sales and coupons as well as in and out of season items.
Shopping requires a skill to make the best of it. It's more than just hitting the store with a handful of coupons and a checkbook. While the first few weeks of meal planning might be challenging, the routine will soon form and you won't know how to shop without it. For anyone cooking for special dietary needs, this is the perfect way to meet those needs without the worry and stress.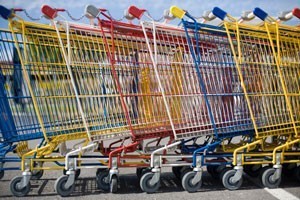 Answers:
Organizing Your Grocery Shopping to Save Money
Do you really want to save money buying Food? Then get away from all those super market chains stores. You are paying dearly for the convenience of having so many of the same stores in your area. There are Discount Groceries out there. ALDI's is one great example. There are 3 or 4 others in my Harrisburg area alone. Each is local. Sure there might be some close to expiration's can goods, but I have yet to find anything spoiled.
Bread? Look for Day old Bread stores. Meat? Be your own Butcher! Cut up to stretch that beef pork and chicken you buy. And there isn't anything wrong with a Turkey Burger. The same with a once in a while meatless meal. Spend a couple minutes searching for new recipes online. Cooks.com is a good place to start.
Buy spices and experiment with them. I now make pan chili with garlic pepper and garlic salt and it is far better than with the chili powder. Lots of onions, green peppers, and canned tomatoes. I get raves and no one has to drink tons of fluids. I made Chili with a pack of taco seasoning.
Soups and stews, you can make them your own. If you like carrots like I do, add those. And a few really cut up potatoes and onions, and some boiled and peeled chicken (saving the stock and adding a few chicken broth cubes to boot). Serve with homemade biscuits.
In this day and age food is about the only place that will allow you to save money. You can do it if you really want to. You know what foods you need and since you are buying wisely you can afford to bring home a few things extra, just as long as you don't go overboard. Me, I buy a large container of French Vanilla Cappuccino from Aldi's for around $2.50.
I mix it in the morning with my cheap instant coffee so I save on using, thus those two containers will see me through to about the end of January. I figure that is, plus the money I saved by buying at discount food markets instead of the big chains. The savings on the two coffees is around $7.00, which those 2 items more than paid for the gasoline both ways.
So if you really want to save on food, you can do it. Good luck!
(12/11/2006)
Organizing Your Grocery Shopping to Save Money
I agree with all these tips and I try to do what they say. My only problem is that sometimes I only have $50-60 for groceries for two weeks. I do keep a fairly large pantry, but combining items to make a meal sometimes is hard. My husband refuses to eat anything with chicken in it. My kids and I love it, so if I make chicken then I have to make something else for my husband or he eats frozen things like burritos. Luckily my kids will eat just about anything. One is a teen and the other a tween (both boys) and they are eating us out of house and home it seems. (12/12/2006)
By Cindy