Julia
Bronze Post Medal for All Time! 146 Posts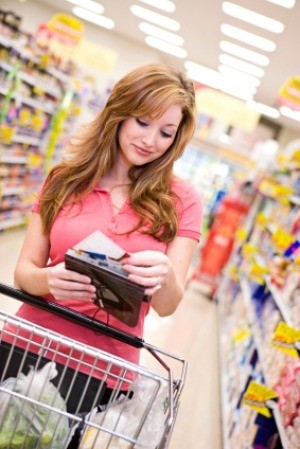 I keep notepads in the kitchen where I also keep the ads from the various grocery stores. On the notepad, I make a list of what's on sale at which grocery store. I make another list of what I need as I progress through the week, noting things I either run out of, or things that I'd like to add to the menu for this week or maybe next week.
I also keep an ongoing list at the computer to write down things I know I'll need to make a recipe that I find online. I keep a list in my purse, which is also ongoing, of ideas of recipes or foods that we've seen or eaten at some restaurant that we liked.
The night before we go shopping, I find a quiet spot, sit down and make a master list combining all three lists. If there's anything I decide not to get, or for some other reason don't get, that item will be at the top of next week's list.
I've been doing my shopping this way for so long that it's just all part of the chore of shopping. My husband is good enough to go with me and is getting better and better at recognizing the brands I use and like. There was a time when I could send him to the store for AP Flour, and he didn't know what the AP stood for. I don't enjoy the grocery shopping as much as I used to, but it still has to be done. I don't remember as well as I used to either, so I make a lot of notes to remind myself why I want a particular item that I've never used or bought before. :-)
Source: A "grocery bill" was something my Mother always did, so it was a good habit to follow. All the note-taking I do now just keeps me on track.
By Julia from Boca Raton, FL
Read More

Comments

I need help organizing my grocery shopping. I use sale papers and have a coupon organizer, but when I start to plan, I just can't seem to get it! If anyone has a system they use, I would love for you to share it with me. Thanks in advance!
Jan from Atlanta, GA
Answers

February 24, 2009
0

found this helpful
I go to Aldi also. I just don't have one as close as I'd like. The closest one that I like is 30 minutes away.
The closest one is about 15 to 20 minutes, but I don't care for the area. Kind of scary. Jan

Robyn Fed
Silver Post Medal for All Time! 398 Posts
February 24, 2009
0

found this helpful
I have a spiral notebook I keep for shopping for food. I have each Isle and what foods are on it. When I make my list I put that isle number beside of the item I want. I put them in order and that way I don't spend time looking for things and my mind is free to concentrate on what I need.
It is good to buy a lot of things to eat in between meals that are not junk.....like potatoes (instant is what I buy, the large can of them for 3 something) and oatmeal, and eggs ( I poach these when people get hungry, and make a sandwich out of it, I have a microwave poacher). If you give a serving of protein with any bread or starch like potatoes, then you will not be hungry as fast after eating and this saves money.
At our house we don't eat junk food because it just makes you hungrier ten minutes later. The hamburger meat, I buy in bulk to last the whole month($20.00)and seperate it into little bags and feeze them. These little amounts are good to put into casseroles or make patties out of. I have the little slider maker that you put on top of the stove, but I don't like it because of the lack of room in it causes a fire hazard due to grease spillover.
I buy big bags of frozen mixed vegetables and brocolli, dark green veggies are best for you, and keep about two of them and they last a whole month, better for you than cans and might be cheaper.
I buy dry milk, which is a lot cheaper than regular milk when you compare the amount that it makes and that it doesn't spoil because you make only what you need.
I buy two and it lasts a month. It is the box with the envelopes of milk in it. When I want to make a cup or so I just sprinkle the amount it says on the directions into the water and mix it. it is really good. Supposed to cure reflux too if you put a teaspoon of the dry milk into your mouth and keep it there until it dissolves... it is supposed to fix indigestion. Some people buy a jug of milk and then make up an envelope of dry milk and combine them. I just like the dry milk variety.

Sometimes I buy butter and things I have to go to often for refills at a different store than what I buy the bulk groceries at.
About coupons, I rarely use them since they are for expensive items in my opinion and I buy off brand items.

Hope this has helped!
Racer

Robyn Fed
Silver Post Medal for All Time! 398 Posts
February 24, 2009
0

found this helpful
Don'f forget to have a list for them in the kitchen like I do of things they can make for themselves during the day before the big meal at night.
I have a list that reads
Snack Foods:
Potatoes
Eggs
Oatmeal
Leftovers in fridge
Beans
Rice
Bread and Butter
Malt - O - Meal
Baked Potato

When they get hungry they can fix their own because I have written instructions on the fridge for each item. This way I can keep track of their nutrition. These are filling snacks and good for them. I love mashed potato sandwiches, which are just bread and mashed potatoes.....
I make the beans in the crock pot and always have some in the fridge....maybe I might do the same with rice, which is good with butter on it and a small amount of sweetner.
When they know there is all this good food to eat, they will stop feeling the need to eat all the time because there will always be food available.
Hope this helps.

February 25, 2009
0

found this helpful
There is a website called free printables.com On there you can download a copy of a master list of grocery (to tell you the truth they have a couple different ones) you can use that and then look first to see what you have at home. then on this website a lady talked about using a folder and putting all her recipes in one (use the ones that have a lot of slots)next take a notebook and go through the recipes and write down the ingredients that they need.
Next write a menu for the week with what you have at home. and look in the book and see what you like to have. Next go through all the flyers you have saved for the week and using the coupons if you have any or cards or what ever you have to save money (if we buy these cloth bags and depending how many you have the stores where I live the grocery store takes 3 cents off your order for each bag.
If you have 3 bags then it is 9 cents) Also if you have like shopping cards (we have one where we are giving a percentage to the school where our daughter goes and also the sav-a-tape receipts go to the school or if you do not have any children you can check your local library they always need funds. Then just go shopping for what you need (however if you have any extra money or if something is on sale you can get it if you need it or can use it. Hope this helps you

February 25, 2009
0

found this helpful
I make my shopping list by the store floor plan. I know what's on each aisle and group food needs by aisle (for me right to left from the front through to the end. I also group my coupons that way. Halfway through the aisles I check the top of the list to see if I've gone past anything I need and go back to get it then...saves steps and I seldom forget anything on the list.

February 25, 2009
0

found this helpful
It can be a daunting task, especially when you see these women on tv and they've just went and bought $150 worth of groceries and only paid pennies for them! Believe me, I know! But it can be done, there's just a trick to it and you have to research and read and really study the blogs, the sale papers and spreadsheets to be able to get the hang of it!
I'm just beginning to really get earnest about the coupon thing, I've always clipped coupons but never really sat down and matched them to the sales each week and planned my strategy as I am these days. But with the economy in the shape it's in and no one knowing what tomorrow will bring, I want to try and make sure my family will have the necessities and plenty to sustain us if something were to happen to our income.
My family of 3 includes my hubby, who is the only one that works and a 15 year old son who eats like there won't be a tomorrow! LOL! Here are some tips I've learned so far.
Plan your menus each week and post them so everyone will know what to expect and won't eat something you have bought for a certain dish.
I haven't implemented this one yet, but plan on starting next week. When you plan your menu, take inventory of what you already have in your pantry and freezer and try to start from there. Use what you already have on hand and add to it.
Start with a good base of coupons and keep adding. Sunday papers, coupon websites and individual company websites are good places to use. I keep my coupons in a nylon caddy with dividers that has a velcro closing and I keep it in my purse at all times just in case I run into a sale and need a coupon. Some keep theirs in a notebook with plastic card sleeves inside and slip their coupons in the holders so it makes it easy to see the coupons enclosed. That's a good idea, but seems bundle some to me. I've also read it's a good idea to set you up a separate email account for your couponing so your private email won't be bombarded with a lot of spam and junk emails.
Watch your sale papers each week, I've also learned that the sale items rotate every so many weeks and so do the coupons, so by the time your first coupon expires, it will be time for a new one to come out. The time to buy and use your coupon is when the item is on sale and buy multiples, stock up if possible.
This not only saves you money but also begins your stockpile of groceries. You'd be amazed at some of the pics I've seen of women's pantries! Groceries stacked on shelves, toilet paper from floor to ceiling and cabinets full! And the thing is they only paid pennies for it by waiting til it was on sale and using their coupons!
As far as making your dollar stretch at the grocery store, we shop at a store here that reduces their meats each day and they put them out around 9:30am for the customers to buy. We always make sure we're there on our grocery day to peruse through and take advantage of the mark downs. And there isn't a thing wrong with the meat either, just take it home and throw it in the freezer!
We usually buy family packs and when I get home I'll separate them into smaller portions and freeze. We buy rice and sugar by the big bags. Bread can be bought at the day old store but we usually just pick it up at Walmart since DH works there, it's just alot easier. We do buy alot of bread off their clearance rack and throw it in the freezer to use as needed.
Another thing I do to stretch the grocery money is to go to the Farmers Market during the summer months and buy bushels of fresh peas and butter beans, boxes of peaches and tomatoes and then blanch them and bag them and freeze. Last summer we picked our own blackberries and I put those in the freezer too. Believe it or not, we're still eating off those fresh veggies and fruits!
Below are some of my favorite websites that I use to research and have learned a lot from in the past several weeks, I hope they help you too! Sorry for such a long post, but we all need all the help we can get these days! I'm only too happy to share what I've learned so far!
afullcup.com
shortcuts.com
swapsavers.com
freebies4mom.com
northerncheapskate.com
moneysavingmom.com
survivingthestores.com
mommysavers.com
hillbillyhousewife.com
One other point is remember your drug stores too! A lot of food items can be bought there and you can stack your coupons at these places while also earning extra care bucks at CVS and getting rebates from Walgreen's and Rite Aid. There are articles on the websites I included that will explain everything.
Good luck Jan!

February 26, 2009
0

found this helpful
You all have been so helpful! I've already started
incorporating some of your ideas, and it's actually fun! This is a great site!
By crazyliblady (Guest Post)
February 28, 2009
0

found this helpful
Personally, I check the sale ads for my grocery store and Walgreens as soon as I know they are available (Wednesdays for me). Big Lots also sends me coupons sometimes. I make a list of what's on sale that is something I sometimes buy and what the sale price is. If I see that something I buy is on sale, I check to see if I have coupons. At Walgreens, I can use store coupons and manufacturer coupons on the same items, which saves serious cash.
Next, I go to my cupboards. I check out what I have. I create a list of what I will need for the next week for 21 meals and note deficiencies. I also note what items I don't need unless they are on serious markdown or I have a coupon that makes them nearly free. I create a list of what I could take for my lunches at work based on what is actually available at home. Some weeks I do better than others, but I am usually able to save at least $10.00 a week between shopping at certain stores, using coupons, using a store loyalty card, and using my own bags. I also stock up on thing I use a lot that don't go bad, like if I see dental floss, shampoo, toilet paper, etc. is on sale and I have a coupon.
One day at Walgreens, I bought over $32.00 of merchandise but only paid $16.00. I planned my purchase ahead of time and had coupons in hand to make it happen. One other thing that helped me was to join the coupon forum here at Thriftyfun.com. You can trade coupons to others who need them and get coupons you need. This is helpful, because the coupon circulars are different all over the country for marketing purposes.

Beth
Silver Feedback Medal for All Time! 407 Feedbacks
March 18, 2009
0

found this helpful
I've said this so many times - shop the supermarket in the reverse order they intend you to. They usually start you off in produce and end in dairy. The marketing experts set the store up to get you to spend as much as possible, so foil them and don't do it that way! You'll be surprised how much less you spend shopping in reverse.
Answer

this Question