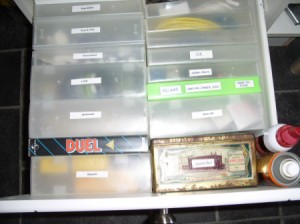 I collected a whole lot of old video tapes from our local community so they could be recycled by a firm in Bristol (UK). I saved some of the boxes as I thought I would be able to use them somehow.
I have recently moved into a new home and I have now put them to good use. I have my medications stored in some and camera leads, etc. in others, as well as, some other miscellany items. They all store neatly making items very easy to find. I just printed the label names onto an A4 sheet of paper then sellotaped them on the side of each case. They could easily be stored upright as well.
I wish I had saved more now as I can think of many more items I could use them for. My jewellery (one for bangles, one for rings, etc.) and some craft items for example.
I am sure many have already figured this organizing tip out, but I am glad I came to it now. Better late than never! :D