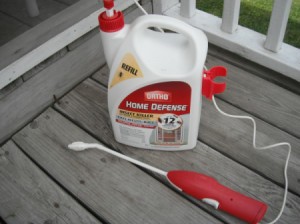 Six days ago, I looked and saw a trail of ants crawling up our screened porch and going up under the vinyl siding at the top of the porch. There was a long trail of them that crossed the side of the deck and down the steps. It was time to get out the spray and put a stop to that problem.
I know a lot of you do not believe in using insecticide but ants and spiders can be a real problem. Six years ago, we had ants to get in the house and had to have pest control come out and spray. It cost us $175.00.
The gentleman told us we could go to Wal-mart and purchase Ortho Home Defense insect spray and it would work just as well. I have been using it since and have not had any problems with ants or spiders in the house. I don't spray in the house but it can be used in the house as well. It does not have an odor and you don't have to spray often.
Ortho Home Defense Insect Killer can be purchased from Walmart. It has a wand that is run by battery and you just cut it on and press the trigger to spray. Very easy to do. It can last up to 12 months.
At the first sign of ants, I spray. I will have to wait until the wind gets calm before I can finish the outside of the house. I'm glad I saw those ants. They are gone for now.