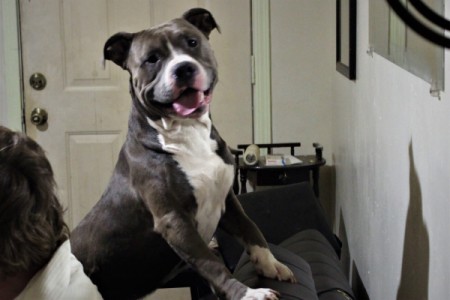 Your Pet's Age
3 1/2 years
Your Pet's Breed
Pit Bull
How and when did you get your pet?
I got him for Mother's Day when he was only 5 weeks old.
What does your pet like to do for fun?
Chase laser pointers or hunt small insects.
Do you have anything else to share about your pet?
Pit Bulls have been stereotyped as being vicious and dangerous dogs, this breed has been exploited and abused more than any dog breed known. By nature Pit Bulls are very loyal, loving, and family oriented dogs. A dog's temperament is developed by how it is raised. The sad fact is some people exploit these dogs for money and train them to be vicious, but that is not their true nature. Sadly many Pitt Bulls are considered non adoptable when they enter a shelter simply based on their breed and they are automatically euthanized if no owner comes to claim them. This is a great injustice and is often unnecessary, these dogs can be wonderful pets. Just look at Oskar smiling. That's not the face of a vicious guy, but a fun loving guy don't you think?
Add your voice! Click below to comment. ThriftyFun is powered by your wisdom!