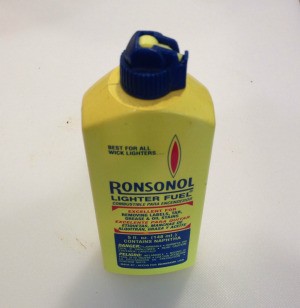 Lighter fluid for cigarette lighters (Ronsonal, Zippo, or store brand) is wonderful for removing sticky stickers or labels. It even works on fabric! Just a little bit will dissolve the messy sticky residue.
I had gotten some quilt squares on sale and left them in my car during 100 degree weather. Needless to say, the labels were sealed to the fabric. I had used the lighter fluid on solid objects and figured what could I lose. It works wonderfully. I just had to rinse out the fabric and I was so happy.
Just remember, no smoking during use.
Source: Used this at my job at Amber Unicorn used bookstore to remove labels from book dust jackets and paperbacks.
By Terry Rawlinson from Goodsprings, NV
Read More

Comments

The easiest way to remove price and other stickers, even from book covers and jackets, is lighter fluid. Just soak the label and let it sit a minute and most labels will lift right off.
Because lighter fluid is very volatile, it dries quickly and doesn't leave a trace.
Read More...