I have marble tile, black granite counter tops, mahogany furniture, what color should I paint the walls? I just purchased my first home, and it is in desperate need of paint. Right now, the walls are white. The floors are a white marble, and carpet a light grey. It will eventually be replaced but am putting my money into other home repairs.
The kitchen has dark granite countertops, and my kitchen table and bakers rack also feature this color of granite. The floor is white marble, with streaks of blue. I was thinking of getting black appliances. Right now the cabinets are white, which I am thinking of antiquing. I am looking for ideas to paint the kitchen.
The dining room, I have a mahogany table and china cabinet. Again, the tile around the carpet is marble, with light grey tile. I've thought about doing a light tan for the house, just because I read it goes well with everything.
My bedroom furniture is also mahogany. Any tips for the bedroom or should I just go with the same color as the rest of the house? Any tips, advice, ideas appreciated! I am a 27 year old single man, and am not the best color coordinator.
Thomas from Lancaster, CA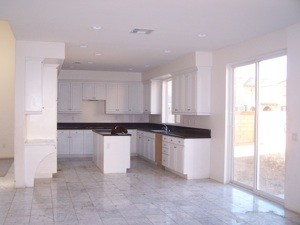 Answers:
Paint Color Advice
If you have a theme in mind, go with the colors in that theme, for instance country type theme for kitchen, match your colors with that, black tops would go well with sage or light/cream colored greens, etc. Same with the rest of the house, go with what you might like, look at colors, lighter is better with the dark contrast of mahogany. Good Luck. (10/02/2008)

By piwacket
Paint Color Advice
I would stay with the same kind of wood first of all. I think without painting you should start with the furniture for the living room, set it up the way you want then sit in the sofa and just feel the room. If your sofa has color in it pick up the color in the sofa that is not as noticeable and use it to pick out the curtains and area rug. Do that with all the rooms in the house. It's more important to start with the furniture you like first, and now for the kitchen.
I would paint just the cabinet doors with black enamel paint and white knobs for the doors after you paint them. It will appear to be a black and white kitchen with black/white accents of your choosing, or you can be bold and go with vivid red accents as well.
I know you want to have it looking like it's a man's home with no feminine touches so it is something you have to do yourself with the things you like. If you paint the walls use earth tones, beige, sand or even a forest green they will make your rooms have a warm feeling, it's pretty hard to figure what you might want not knowing what things you like etc. I wish you the best of luck in your new home, it looks really beautiful and has so much potential. (10/03/2008)

By Maddy
Paint Color Advice
Get lots of paint chips from your local home improvement store. The beige colors will go nicely with the mahogany furniture. (10/03/2008)

By Maddy