I have just redone one of my bathrooms. The colors are gray, white, and black marble with satin nickel finishes. What color can I paint? I was thinking mauve. Do you agree?

By Dee from North Jersey

Answers:
Paint Color Advice
Any color would go with grey, black, and white. Mauve would give a very sophisticated look. (02/22/2010)

By joan pecsek
Paint Color Advice
I agree that most any color will work with what you have. Keep in mind that mauve is a very dated color. Finding accessories (like bath towels, shower curtain, etc.) to match will be very difficult to coordinate.
If you are wanting fresh color and updated a good choice would be soft shades of blue, pink, lavender, green, yellow, or even a citrus yet muted orange .

Mauve is a muddy (tan) pink and is kind of a downer of a pink. Paired with black and gray, colors that don't have brown tones, to play off the gray and the brushed nickel is going to be the direction I would go with. (02/22/2010)

By LizO
Paint Color Advice
If there's not too much painted area, how about a hot, vivid red?

Marg from England. (02/25/2010)

By Marg
Paint Color Advice
Oh honey, nothing goes with the first poster and these colors like red! Here is a shot of my bathroom for your consideration. (02/26/2010)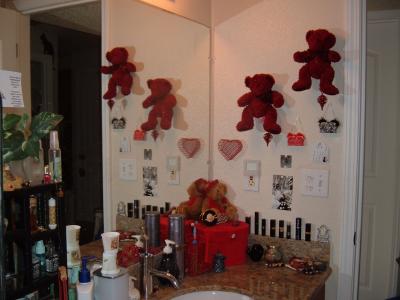 Paint Color Advice
Mauve is so out! How about a nice earthy or bright green? Add some plants, too. (02/27/2010)

By anne