What color should I paint the room with this couch?
Acayu from Texas
Answers:
Paint Color to Match My Couch
I would pick a light color from the light stripe on the couch.Lot depends on how much light comes in the room, and how big the room is. Lighter will make it seem bigger and darker will make it seem smaller. Hope I didn't confuse you too much. (12/16/2005)
By Jan
Paint Color to Match My Couch
I love your couch!
You can use any color from the small prints in your fabric for your walls. Find the color you like best, and that compliments the other things in your room, and have the paint department match it.
Love & Prayers,
Linda (12/16/2005)

By lindaljh1
Paint Color to Match My Couch
It looks like that dark area in your couch is some type of burgundy - I think that would really make your room look rich and cozy. Have fun and Merry Christmas! (12/16/2005)

By Carol Ann from Ida Grove, IA
Paint Color to Match My Couch
I too would pick a color from the light stripe of the couch fabric. Hard to tell from the photo...maybe a sage green, or blue-ish gray. (12/17/2005)

By chris
Paint Color to Match My Couch
Depending on the size of your room, maybe a nice gold color? My living room is a yellow gold and it's very pretty. Here is a photo (12/17/2005)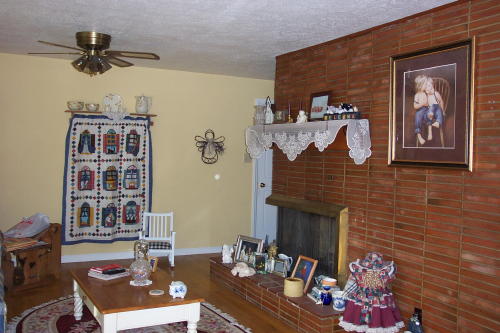 Paint Color to Match My Couch
Ty much , I was thinking of a darker color from the couch, like a BRAVE burgundy lol. (12/17/2005)

By Acayu
Paint Color to Match My Couch
I agree with the pale gold. One of the shades from an Italian villa palate would be nice. I think they became popular after the movie, Under the Tuscan Sun. (12/18/2005)
Paint Color to Match My Couch
I think the gold or burgundy would be okay, but what about a sage green? It is difficult to tell from the pic, but looks like there is sage green in your couch. My bedroom is painted this color and my bedspread has both sage, burgundy, gold and tan in it. (12/23/2005)

By Marianne
Paint Color to Match My Couch
Gold would make your room look very warm and rich, sage would be very soothing. May I suggest something to you about your art? I used to be a demonstrator for one of those home decor parties and we would always hang the artwork lower in the living rooms because you are sitting down and it is easier to see that way; bring your artwork closer together to make a grouping, use your hand as a guide about how much space to leave between the pictures. (12/23/2005)
By Paula