I am interested in painting my laminate countertops, the pictures here are so fantastic. I am unsure about the Enviro Tex, however. How durable/tough is it? If I set a plate from the microwave on it will it hurt it? (I know not to put a pan from the stove, I don't do that anyway.) I also use cutting boards, but other than that, does it scratch easily? I have a cat that refuses to stay off the counter tops, I even tried tape sticky side up, but she's stubborn and just walked on it!
I want to make sure that this stuff will hold up to regular wear and tear, using hot pads and cutting boards. Is there any other damage anyone knows about that I should be aware of? I appreciate the help!

By diamond3573 from Milford, MA
Answers:
Painting Laminate Countertops
This is a link to one of the Envirotex webpages that will answer your questions and a whole lot more. There is a lot of good info here:
http://www.sculpt.com/technotes/Envirotex_tech.htm

For additional questions, this is their technical support hot line:
(212) 367-7561 (04/19/2009)

By Anonymous
Painting Laminate Countertops
prscire, I have been researching painting my old, yellow laminate countertops for months now but was not convinced until I saw your posts below. How amazing! I would love to attempt to duplicate your coloring in my kitchen. Would you mind sharing with me the type of paints/colors of paints you used as well as your method? I would greatly appreciate it (as would my budget). Your countertops are stunning! (04/20/2009)

By KFranks
Painting Laminate Countertops
According to this link: http://www.save-on-crafts.com/enpr.html, the Envirotex is water, chemical and heat resistant. Note that it doesn't say repellent, but should hold up if not the "lite" they use for decoupage and crafting. My friend used appliance epoxy and did an outstanding job of marbleizing hers, fooling even my eyes, which makes me want to find old wood and practice different applications until I find exactly what I would want to cover my older formica countertops in baths and kitchen, then add the Envirotex, but it didn't say it would hold up to scratching, a factor that might need to be there but isn't.

I remember when clear polyurethane was used on everything from log tables to automobiles and souvenirs,, but suddenly stopped being promoted when it began to both scratch, chip and fog/yellow. I'd suggest that you practice and research more who have used it online. Good luck and God bless you. (04/23/2009)
By lyndagayle62
Painting Laminate Countertops
I just finished creating "faux granite" countertops and I'm so thrilled. It was easy and the total cost for each countertop was about $70. Here's what I did:

Using an orbit sander I lightly sanded the laminate countertop. I then wiped it dry and applied a coat of primer. Once dry I applied a water based base coat. In my case I used Behr Adobe Straw which is what my walls are painted. When dry I sprayed Krylon "make it stone" in the 2nd to last dark grey (the color wasn't named). Let it dry for 5 - 7 hours then spray it again and let it dry 5 - 7 hours. It will now look and feel a bit like concrete.

Lastly I mixed and applied Rustoleum Stone Effects Step 3 clearcoat for kitchen countertops. It goes on like warm honey and is goopy and gooey but read the instructions and follow them and it will work out great. Use a 4 inch foam brush to push and move around the clear coat just as if you were icing a cake. Slide it over the edge and use another one to catch the drips and push them up on the side.

I should note now, make sure you have previously totally encased your cabinets below and floor in plastic. You don't want this stuff dripping on them. I did the first time and ended up having to sand and repaint the cabinets.

Smooth the clear coat well then leave it alone. Don't touch or do anything to it for 24 hours. Then do a 2nd coat. Any mistakes or bubbles will just be covered over. I messed up on my second coat so ended up doing a 3rd. It looks beautiful and is super thick and durable.

Rustoleum says the clear coat is heat resistant but I wouldn't put a hot pot on it. I don't think it would hurt it but it might go cloudy. Just use a hot pad. If you're in a situation like me where my countertops were shot, it's worth a try. Even if it only lasts a couple years. It's worth it. (05/08/2009)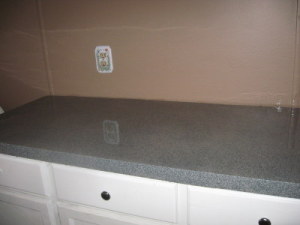 Painting Laminate Countertops
I'm going for the full monty! This years tax return was to be used to remodel my kitchen, but when the pink slips were passed out at the first of the year, I figured it best to save. As you can tell by the picture, I've been living in 1950 for about a year now (sorry for the mess, picture was taken when original owner's family was preparing for estate auction, but you should get an idea of what I'm up against). My Full Monty will consist of the following:

1.) Removing old vinyl wallpaper from walls and sand
2.) Fill in routed design on cabinets and sand
3.) Paint Walls
4.) Paint trim and cornices (window boxes)
5.) Paint Wood Cabinets (countertop color is same color yellow on cabinets)
6.) Paint Countertops
7.) Replace Cabinet Hardware

Since so many have walked the path before me, I'm looking for some insight. In which order should these projects be performed? Of course I will do the removing, filling and sanding first. Also has anyone ever used a product like a Wagner Power Painter to spray paint cabinets? I'm not a good painter (that's really an understatement) and I want my cabinets to have that professional painted look. What type of paint have others used to get the best results on cabinets that will have to stand up to cleaning? I prefer a flat to semi gloss finish.

I'm going to use a light to medium stone brown (I like the color nebster used in 12/2008 photos on the shell sink vanity, minus the cat). Since my counters are an awful yellow, I'm guessing four to five spray coats to get the color I want. I had the kitchen floor tiled when I first purchased the home (they were already here to do the bathrooms), and it sounds like I should invest in a good floor cover, as it will be down for some time. My only concern is the Enivro-Tek.
My kitchen sink is the original white cast iron sink installed when the house was built and I want to keep it. Currently it has the +/- stainless steel "huddee ring" piece where the sink recesses into the counter. Have they come out with anything that looks better? Thanks for taking the time to read my post and all comments are welcome. (05/09/2009)

By ppandme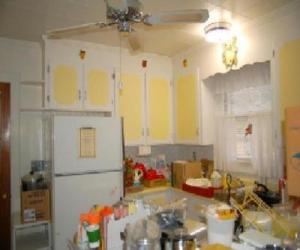 Painting Laminate Countertops
Thanks to Nebster I also took the plunge and painted my out dated kitchen cabinets. It was a lot of prep work, time consuming but worth it in the end. Next I plan to tackle my countertops and backsplash. (05/13/2009)

By Maria Q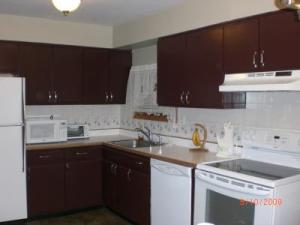 Painting Laminate Countertops
The before picture. (05/13/2009)

By Maria Q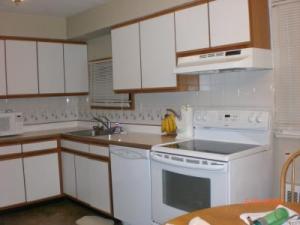 Painting Laminate Countertops
In reference to the scratching on the enviro. Well, it does. I have had mine for a year now. It doesn't bother me a bit. It adds to the uniqueness of the product. Still gorgeous. Mine are black granite look, love it. Going to do all my bathrooms now! BTW, I never sanded anything:) (05/13/2009)

Painting Laminate Countertops
After reading down through about black look granite counter tops. Well mine look awesome and have been done for a year and I only used a shiny black paint, then rustoleum black granite look spray over. (Of course I primed but never once did any sanding, used a small hand held torch to smooth the bubbles. So easy worked like a dream.) Bounced gold and silver glitter that is square over and Envirotex, which I much prefer. I love the high gloss and it has held up with kids. I am not light in my kitchen. Everyone that sees it thinks I got granite, cheap and chic, lol. :)

Now onto the kids bathroom and mine. Only downside, it does scratch but it's no big deal. You can't really see it unless you are 2 inches from it and I have had no problems with warm things on it. Of course be smart this isn't granite...no cutting, no hot pots. Fantastic! (05/13/2009)

Painting Laminate Countertops
Rustoleum now makes a counter top paint. No priming, just 2 coats. I have not tried it yet but it looks good on their website. (05/20/2009)

By brookhaven
Painting Laminate Countertops
I have not had experience with the Envirotex, but it sounds similar to resin casting which is quite tricky. I have faux painted my bathroom and kitchen countertops and used a coat of faux finish polyurethane, which keeps paint from umbering and then applied 3 coats of a marine grade polyurethane found at Lowe's. It gives a very glossy finish that appears to resemble the envirotex finish. It is thicker than regular poly but maybe not as difficult as envirotex. (05/21/2009)

By 1janine1