I have seen and read how to paint over laminate counter tops. I loved the colors that were used. They were more of the earth tones or neutral colors. I need to know how much paint I need to buy or can I use acrylic paint from a craft store? Can you add some metallic flakes and where do you find it? Please help.
By Janab9970 from Maiden, NC
Answers:
Painting Laminate Countertops
I actually found the Thrifty Fun site while researching how to paint countertops last year! I'm glad I went ahead and took the plunge and got rid of my plain Jane white Formica countertops. Not to say there are no imperfections, but what I've learned is that a black or dark color does better with the polyurethane finish than light colors. The light colors tend to take a yellowed appearance, so be wary.
I used less than a quart of the regular household all purpose indoor/outdoor paint for about $7.50/can at Walmart. I bought several of the small pint size cans in different colors to sponge in. I used black for main color, sponged on white and khaki gold and gray. I used a natural bristle wide brush for the polyurethane. I tried the roller first, but it was not looking how I wanted. So I sanded, and applied several coats, sanding in between.
For the price, the Envirotex sealant looked a bit intimidating if I messed up. My counters look great and are holding up well, even with wiping them down with bleach. Other than dealing with not using your counters for a few days it was well worth it for less than $40 to have a new look. (03/31/2009)

By NCTyphoon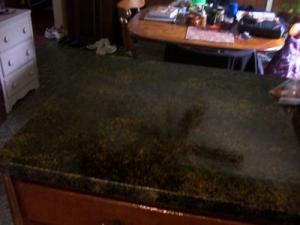 Painting Laminate Countertops
I used latex paint and acrylic paint from the craft store. I bought two tiny sample Valspar cans from Lowes, then I decided I wanted more colors and got some acrylic from the craft store. I bought some gold metallic flakes from Lowes. It is the stuff they put in their granite faux paint. No need to buy the paint, the flakes will work fine (though they were kinda expensive like $5). I mixed the flakes with a translucent glaze and painted it over the countertop. Note: just put a little bit of flakes in the glaze, a little goes a long way and you can always add more if you want later. Lastly, I put Envirotex over the entire thing. (04/05/2009)
By Liz4891
Painting Laminate Countertops
My laminate counter tops look great and it only took about 4 hours and $80. I just cleaned, sanded, taped them off and sprayed the Like Stone spray paint from Home Depot. I finished with a polyurethane, however I'm going to apply the Envirotex after reading this site.I'm a bit nervous about that part! (04/05/2009)

By terrabelle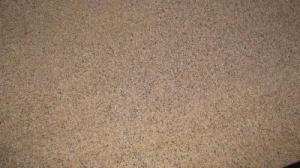 Painting Laminate Countertops
Hi, I am ready to try this! I just had an estimate for new laminate and it was over $1400 installed. The least I can do is attempt to paint them. I really like the look of the stone spray, but am terrified of the Envirotex. I just don't understand how it works I guess. Plus I have a lot of counterspace to cover. Anyways, I was wondering if I used the stone spray, can I use polyacrylic as the sealer? Or will it be super bumpy? If it does end up too bumpy, can I use the Enviro over it later? And what is the difference between water based polyurethane and water based poly acrylic? Can either be used? I really appreciate any help you can give. Thanks! (04/10/2009)

By honeydue
Painting Laminate Countertops
Well I finally got done with my project thanks to all your posts on this page. I was so leery of doing this but it came out awesome. I did need help at end with second coat of Enviro though. Next are steps I took:
Painted sage coat with new Rustoleum paint for counter tops.
Sponged on, burgundy spray paint, then stone light beige, then copper spray, color top them with gold spray paint with sponge, also let dry over night
Polyurethane gloss 2 coats
Enviro tex 2 coats for durability and strength, as I have lots of people using the counter tops. Well all in all, I was so stressed about it but truly came out better than I'd hoped. Hint: You can use air dryer or heat gun to blow bubbles out of counter top but work fast as it does cure fast, less than 25 minutes, if your lucky. Then you cannot touch for 72 hours for hard cure. I wanted to post before and after but couldn't get this sight to let me put both on.
(04/14/2009)
By lovely42