Can I paint old laminate countertops? If so, what is the best process?

P. Warren from Illinois
Answers:
Painting Laminate Countertops
I did this and found it to be very easy and affordable. They were dark blue to begin with and I painted them with a tan-tinted primer, then sponged 2 shades of brown. I then sponged black on, let dry, then white, let dry, then more brown. Be sure to use OIL based poly. I used water based at first and had to redo them. my hubby was a little leery at first when I told him I was going to paint them, but he loves them!!! The results are absolutely gorgeous and now I will be doing my kitchen counter tops, too. (03/18/2007)
By westiemom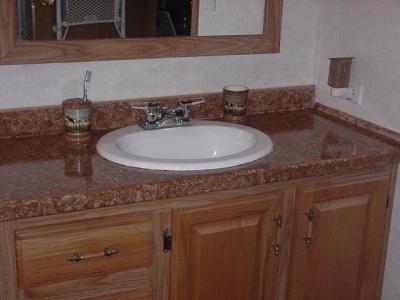 Painting Laminate Countertops
Painting laminate countertops is easy. Just make sure you use a good primer to start with and let it dry for at least one day. Then use a good melamine paint and a smooth roller. Don't use a lot of paint on the roller and don't try to roll it out to thin just a nice even coat. Let dry for 24 hours then apply a second coat. (03/28/2007)

By Tom Douglas
Painting Laminate Countertops
I painted my counters last May. Almost a year now! I used Debbie Travis' idea. You can't get melamine paint here in GA (unless you buy pet food). Anyway, I used all oil based products instead. I love my counters now. Easy to clean, no scratches. (04/06/2007)

By Maureen (Mo1959)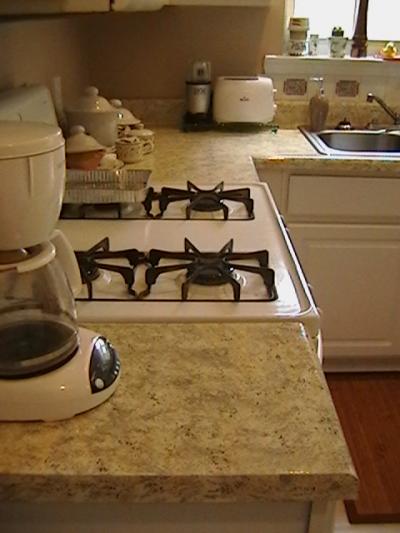 Painting Laminate Countertops
I very successfully painted my laminate countertops in my bathroom! It was a weekend job and the hardest part is prep work as in most painting projects. You must first scrub the surface with TSP, sand with fine sandpaper and then begin your painting. I used a rustoleum paint in black(you want a paint that will dry really hard). Then I sponged 4 colors to give it a marbled look(I used sample pots of paint from Menards). Sanding between coats, I finished with 3 coats of polycrylic. I had company for Easter and everyone thought it looked great. My husband said, "You have guts!" when he saw what I was doing, but he is also pleased with the results. (04/09/2007)

Painting Laminate Countertops
YES - It's all about preparation. First you'll have to thoroughly clean it with a degreasing cleaner. Then sand it a bit to give it some "tooth" then thoroughly wipe it down with a tack cloth. Finally before painting it you'll need to coat it with a high adhesive primer (like Zinsser 1-2-3)... Then you paint it the color you'd like. Finally you need to cover the whole paint job with at least 3 or more coats of varathine.
OR you can skip most of the steps above & just paint the Laminate with MELAMINE PAINT. Melamine paint is made to cover melamine, that white (or black) plastic covering on discount furniture. Formica is made from Melamine. Melamine paint is an oil based paint. So if you go this route, I'd wait until late spring so you can open your windows, because of the nasty smell. Just follow the directions on the can. Just look in the Yellow Pages for: Paint Stores. Then call around & ask if they carry Melamine Paint.

You'll need to buy melamine paint at a paint store. They don't sell it at Home stores (like home Depot). The colors are a bit limited.
(04/09/2007)
By Cyinda