I want to redo my kitchen. It was a theme of strawberries, I am tired of it. The wallpaper is coming down and I want to paint but don't know what color. I would like to get rid of my big table and chairs because you have to go around to go through the back door. My kitchen is small and there is very little room.
I have a small counter top in the middle which I would like to get rid of and replace with a big island with chairs for seating. My cabinets are a dark walnut and they will stay. My countertop is baby blue in color and it will stay. My floor is white squares with tulip designs with blues and burgundy. The floor will stay for now. My appliances are stainless steel and black. I do not want to get rid of appliances. Help! I would love ideas.

Liz from Meredosia, IL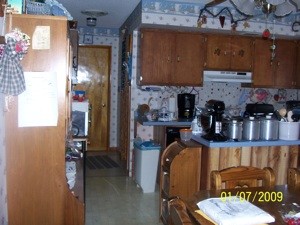 Answers:
Painting a Kitchen with Blue Contertops
I think a shade of green would look really good. It would tie all the other colors together. (01/07/2009)

By Amie
Painting a Kitchen with Blue Contertops
First - the baby blue countertop! Both my girlfriend and I have painted our countertops. Sand down lightly, use a tack cloth to get rid of dust, and paint. I suggest using acrylics and maybe a sponge for sponge painting (no lines will show). If you sponge with 5 different colors and really blend, it'll be as beautiful as a new counter.
I used the Ceramcoat acrylics in the hobby store (Michaels) for the alternate colors. I bought a small pint for the base color. Then varnish with marine varnish -- at the very least, 3 coats (with fine sanding in between). I've moved since doing mine but girlfriend's is still in use after 9 years! (01/07/2009)
By Dee
Painting a Kitchen with Blue Countertops
I'd paint with a pale yellow and bring in accents of sage green and even some deep red. This combination of colors would create warmth while working with the cool tone of your blue countertops. If you could find/make curtain valances to match in a print fabric utilizing all these (a plaid, stripe, floral, or even a fun polka dot!). Then bring in solid colored accents (canisters, throw rugs, dishtowels, potted plants, etc), it would really be lovely.
A hanging basket of silk flowers (geraniums, tulips, and pansies are cheerful) might bring in color while freeing up counter space in your small kitchen. You might even be able to tie in any green/red accents you already have from your strawberry theme to save even more money! (01/14/2009)
By Melody T.
Painting a Kitchen with Blue Countertops
I agree with the sage green idea. You could also use a maroon or a wine something, near to those colors. I would not do the yellow though with the counter tops being the shade of blue they are. Also, you could while you are at it, buy some new hardware for your cupboards. If you are really feeling energetic you could buy some strips of wood matching your cupboards and measure half-way up your walls and paint the top half one color and the bottom half another.
You can also consider a border for around the top of your kitchen or the middle (instead of the wood). Then go with a color in it to paint your kitchen. This is a good and very helpful way to be sure of the colors you could use and help's a lot in helping to find colors you might like. You can also consider going to a paint store and picking up booklet's they have for free, which can show you a variety of color's that go together in a kitchen. You might also look at wallpaper, and the colors on them to see if you see anything that you like in colors that you might use, of course using paint instead. And then you could also redo the cupboard's in a color to compliment your kitchen. Oh, you could have a good time with your kitchen! There are decals you can put on your walls. Just rub them on and spray a sealer on which you can buy at a craft shop or paint store.
You have many options available to you at this time. Take your time in finding the right color, however make sure you really love it before you put it on the wall. To be sure you can try the colors on the wall first. Also, if you just paint your kitchen and you do not want to do a lot of work you can always find painting's and hang them on the wall's. Let them be the decorations on your walls so you will have that homey feeling everyone loves! Good luck and have fun! I have to do my kitchen too and I can not wait to get started! Have fun. Darlene (01/14/2009)

By Darlene
Painting a Kitchen with Blue Countertops
I'm also voting for pale yellow. It will give it a French country flare. Hang a few thrift shop blue and white patterned plates on the wall. I don't mean like a set, but the ones that have pictures on them of places. Your cabinets will pop against that color. I have a pale yellow in my mud room and I just love it. It's always cheerful, even on cloudy days. (01/14/2009)
By HaleyP
Painting a Kitchen with Blue Countertops
Yellow was the first color that came to mind. (01/15/2009)

By Maryeileen