My parakeet is losing his flight and tail feathers. He is now around 8 months old. His wings were clipped when I first got him 4 months ago. He jumps off his perch a lot and tends to break his feathers. Now he has no tail feathers and only a couple flight feathers on his left side. Is this normal or is he sick? He is very mild mannered and mellow, but has been that way since I got him.
By Chana from NY
Answers:
Parakeet Is Losing Its Feathers
When parrots get stressed, they feather-pick. The fact that the feathers are gone on one side more than the other could signify that he is picking them out himself. The way to tell if a bird is picking his own feathers, is to check the shaft, the bare part that is right next to the skin on the bird. If the shaft is smooth, chances are the feather came out on its own. If the shaft is a bit ragged, that usually means that the bird is picking his own feathers out.

The only thing that you can do is to take the bird to an avian vet, and let him/her make the diagnosis. Treatment will depend on what the vet tells you to do. Most of the time, if the bird is doing it to himself, it becomes a habit, and this habit is extremely hard to break once it becomes established. The cockatoo in the picture is a rescue that has feather-picked ever since she has been at the avian rescue facility, where I volunteer. She is currently wearing an acrylic collar to help prevent her from doing this, but the collar is not really helping to solve this problem. There are other solutions, which I have used on my personal birds, (who are all rescues), that do not work either. Once this becomes a habit, you are very lucky if you are able to help the bird to break it. Good luck to you and your bird. (07/20/2010)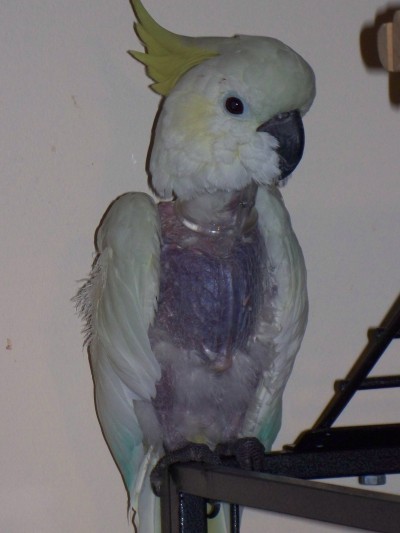 Parakeet Is Losing Its Feathers
Sometimes they get bored and have no stimulation. Does your bird have enough toys to play with or things to chew on? Buy some new toys or make some that can be safely chewed and destroyed. Rotate toys every couple of weeks to keep him interested. Good luck. (07/23/2010)

By xintexas
Parakeet Is Losing Its Feathers
Please look for a certified avian veterinarian and make an appointment. Good luck (07/23/2010)

By K9cats