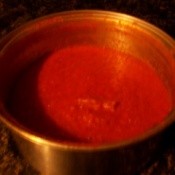 This is a multi use pasta sauce made from tomatoes frozen from my garden bounty. Economical, easy to make, and more flavorful than store bought. I remove seeds from my tomatoes before freezing for smoother sauce.
Ingredients:
1 gallon frozen tomatoes (or 4 large cans crushed tomatoes)
3 minced garlic cloves
1/2 cup minced onion
1/4 cup olive oil
1/3 cup sugar
2 tsp. salt (more or less to taste)
1 tsp. black pepper
1 Tbsp. basil
1 Tbsp. oregano
Seasonings can be adjusted to suit taste
Directions:
Thaw tomatoes, puree in blender. Saute onion and garlic in olive oil until crisp tender. Using a large dutch oven saucepot, add tomatoes, seasonings and sauteed garlic and onions.

Heat on medium to boiling, reduce heat to low, cover and simmer for at least 2-3 hours, stirring every 15-20 minutes.

At this point, if thicker consistency is desired, remove lid and up heat to medium , stirring until more liquid is absorbed. The longer this simmers the better it is.

When done you can either jar into quarts and process according to jar manufacturer directions, or let cool completely and ladle into quart freezer bags and freeze.

Add hamburger or other meats to sauce before serving. Great on any pasta dish!
Servings:
12 -1 cup servings
Prep Time:
10 minutes Minutes
By Cheryl from Trinity, NC
January 27, 2017
0

found this helpful
Top Comment
I grow most everything we eat during our summer months. Unfortunately, in Montana we do not have much of a growing season. With that said, with vegetables that do great, we grow plenty and then freeze them. Tomatoes are one of those items. However, I have never made pasta sauce from fresh tomatoes.
I made sauce before but used canned tomatoes. So I was concerned with having frozen tomatoes. Well, I chose this recipe due to the title stating "frozen tomatoes". I must say this a winner. It has only been cooking for maybe an hour; delicious. This will be my go to pasta sauce from now on. Thank you for posting.