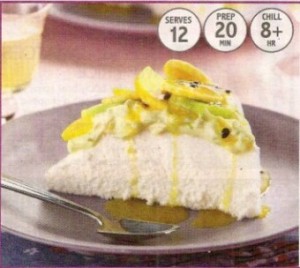 You can't fail with this Pavlova. No more worries about baking it just right. Anybody can make this with success. It's so easy and yummy, too.
Ingredients:
3 tsp. gelatin powder
1 cup caster sugar
2 egg whites
Topping
300 ml (1 1/4 cup) thickened cream
2 Tbsp. caster sugar extra
fruit (such as mango, banana, and passion fruit), as desired
Directions:
Dissolve gelatin in 1 cup hot water and allow cooling. Line a baking sheet with baking paper.
Place gelatin mix, caster sugar, and egg whites into a mixing bowl and beat until firm and fluffy.
Arrange into a Pavlova shape on the baking sheet, and allow to sit for 10 minutes, then chill until set.
Beat cream and caster sugar till thickened. Top Pavlova with cream and fruit as desired.
Source: That's Life Magazine
By Rosemary from New Zealand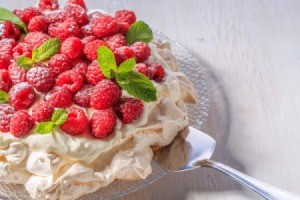 I found this yummy recipe at Kraft Kitchens. It takes a couple of hours but the results are well worth it. Of course you can substitute the raspberries with any other berry, or berry combination, you choose.
Ingredients:
4 egg whites
1/4 tsp. cream of tartar
1 cup granulated sugar
1 (1 oz.) package vanilla Flavor Instant Pudding
1 1/2 cups milk
1 cup frozen whipped cream topping, thawed
2 cups fresh raspberries
2 Tbsp. Powdered sugar
Directions:
Preheat oven to 225 degrees F.
Beat egg whites and cream of tartar in medium bowl with mixer on high speed for 5 minutes or until soft peaks form.
Add granulated sugar, 1 tablespoon at a time, beating until stiff peaks form.
Spread into a 10 inch circle on parchment covered baking sheet and indent center slightly. Bake 1 1/2 hours and cool.
Meanwhile, beat pudding mix and milk in medium bowl with whisk for 2 minutes Stir in whipped cream topping and refrigerate. Place meringue on plate, fill center with pudding mixture, top with berries and powdered sugar and serve. Keep covered and refrigerated if you happen to have any leftovers.
By Deeli from Richland, WA