Peacock Photos
Photos
Share on ThriftyFunCheck out these photos. Click at right to share your own photo in this page.
Male peacocks are very handsome birds - sadly the female is quite dowdy in comparison.
When the male is ready to mate, he displays his beautiful feathers and waves them like a fan to attract the female - obviously she rarely resists the attention.
Peacocks usually mate for life with the one partner.
Some folk say that having peacock feathers in a home is unlucky. I have no idea where the legend started.
By Carolyn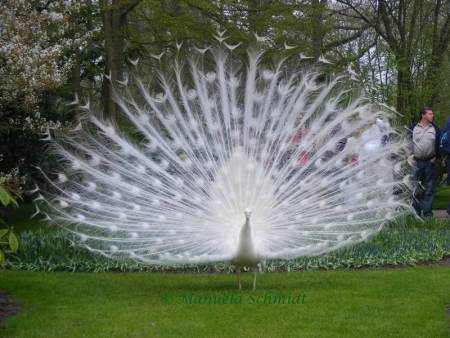 Comments
August 31, 2011
0

found this helpful
Top Comment
Hi there, in the UK we also say its bad luck to have peacock feathers in the house, but in India they say its very very good luck. If you are given peacock feathers then you, your family and home will be blessed.

I took the grandkids to the zoo in Oklahoma City in June. As we were strolling through, we saw this peacock walking away from us. I guess we startled it because, it stopped right in front of us and started its strutting. I got pictures of the tail feathers going up, up and full attire. That peacock was absolutely beautiful.
By Nana Lee from Healdton, OK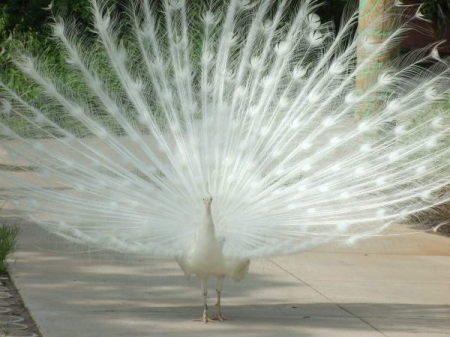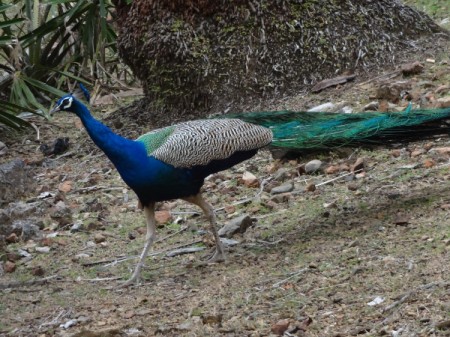 Photo Description
A few days ago, it was really cold. I got up early in the morning because of some strange noises.
I go out and this beautiful majestic bird is dancing around outside my house. It's blue coat was just too royal!
Photo Location
Jaipur, India

We went to visit my brother in Kentucky and we decided to go to the zoo. It was a gorgeous day, and this little guy decided he wanted to show off.
I snapped several photos of him, but this was the best.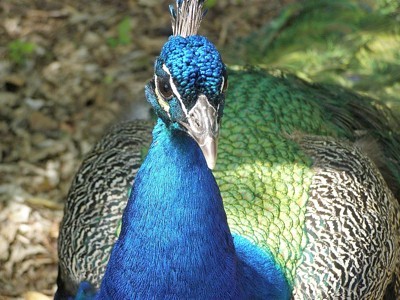 Read More...
This gorgeous peacock was just one of MANY that roamed freely about Fort Wayne Children's Zoo. It was by chance that I turned and noticed this guy standing beside me proudly displaying his feathers.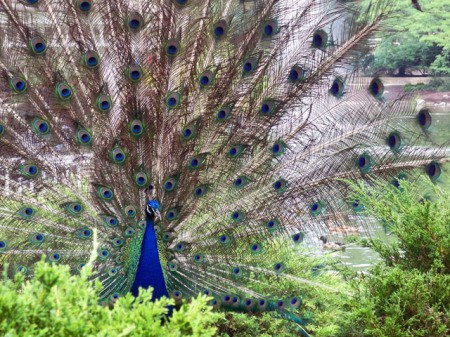 Read More...
We are currently having wonderful spring weather, which is truly a blessing after an unusually cold winter. I went for coffee in the outdoors at a plant nursery, and came across this peacock just as he was putting up a great display of elegance and color.
I just love peacocks! Definitely one of my favorite birds!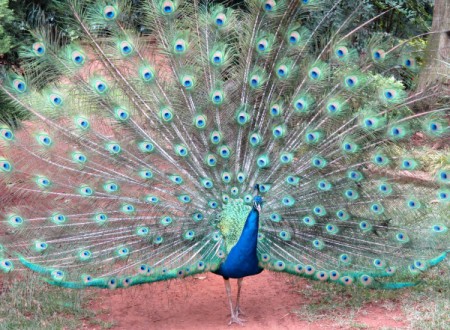 Read More...
This lovely gracious bird that walked among the tourists unafraid and with confidence, really took my eye with his beautiful array of colors! A peacock!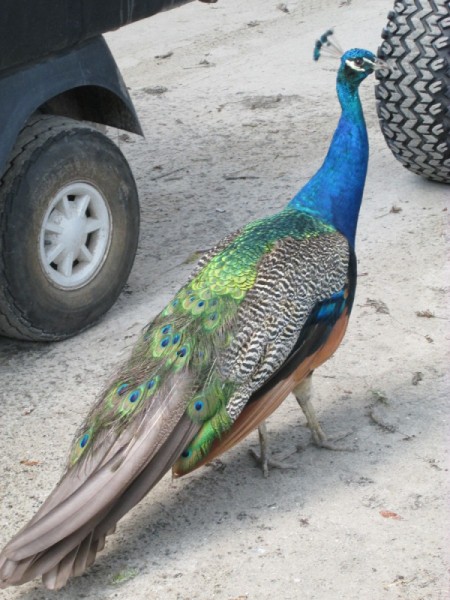 This beautiful peacock was wandering around the grounds quietly wowing the people who came upon him. His colors were spectacular and the only thing that would have made this more perfect would have been if he fanned out his gorgeous tail feathers.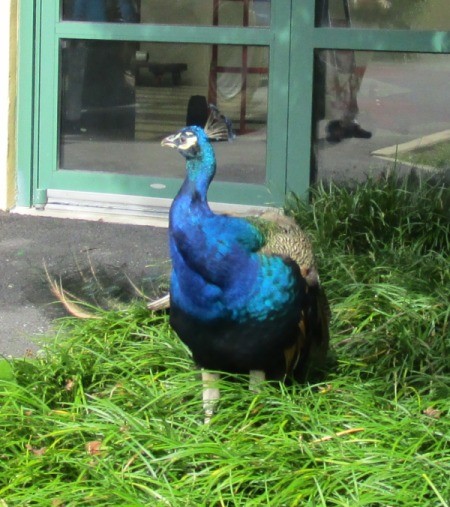 Archives
ThriftyFun is one of the longest running frugal living communities on the Internet. These are archives of older discussions.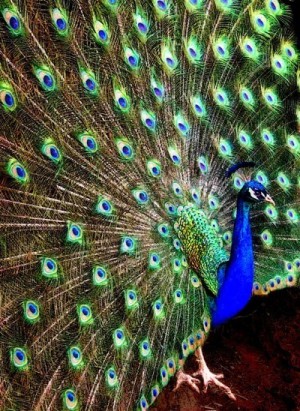 While visiting a local animal farm, this peacock began strutting his stuff! With his bright colors, he really put on a show.

By Kim
This is a peacock that my aunt, my mom and I saw. It was on the side of the road, when we were just driving to go to my friends mama's house. My mom said "Layla, look a peacock"! At first the peacocks feathers weren't spread out, and then out of nowhere, Wosh! The feathers spread out, and it was amazing.
A few days after that we went back to my friend's mama's house. Again we were driving down the road, and saw about two or three more. Neither of them spread the feathers out though. Anyway that is the story of this picture. Please vote for mine! Thank you!

By Layla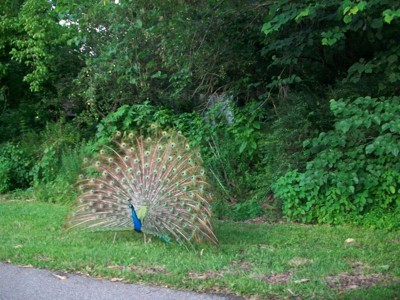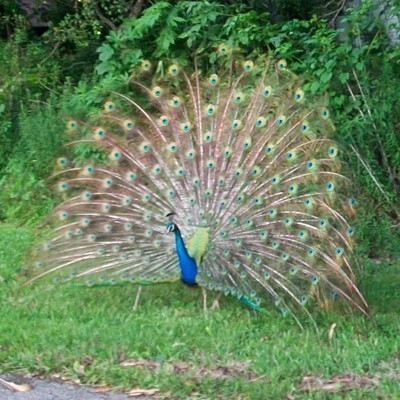 Answers:
Wildlife: Peacock
What a handsome guy. You were in the right place at the right time and with a camera. :) (12/18/2010)

Wildlife: Peacock
Beautiful! Love it, thank you! Thumbs up from me! (12/18/2010)

By Stacey Silva
Wildlife: Peacock
Wow! What a shot! Where do wild peacocks live? Where I come from, (Ontario, Canada), we have lots of wild turkeys in the countryside, but to see a peacock we have to at least go to the zoo! How great! (12/19/2010)
By Pam Miller
This beautiful peacock is showing her beauty in the Sunway Lagoon - Malaysia.

By Eddy Gunawan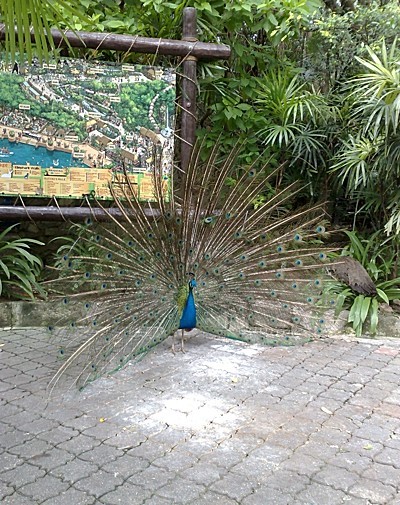 Answers:
Wildlife: Peacock (Sunway Lagoon, Malaysia)
Eddy, she is a he, they are very good at strutting their stuff! (11/02/2010)

By lesley
Advertisement