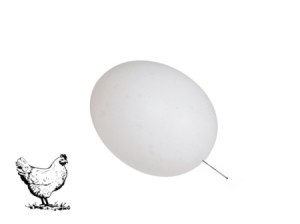 Years ago when I cooked a lot, I read a tip for preventing eggs from cracking while being boiled. The method was simple; punch a hole in one end of the eggs with a pin before dropping them into the water. This method works very well.
I did learn that often a small amount of egg white would ooze out through the hole and cook there, still attached to the egg. I found this could be prevented by using the smallest pin possible. I use a tiny silk pin, no more oozing white.
Along the way, I stopped using this method because I place the eggs in cold water, and heat it to boiling very slowly. So, cracked eggs were not a problem.
Recently, I've been developing a recipe for spinach salad with chopped boiled eggs, shredded cheddar cheese, crumbled bacon, Ranch dressing and, sometimes chopped black olives. I have the recipe just about the way I want it.
Anyway, I've been using a lot of fresh, boiled eggs, lately. They have been very difficult to peel, even when using some of the best tips on ThriftyFun. The last time I boiled a dozen eggs, I was in a hurry, so I pierced each egg with a silk pin before boiling.
Unbelievable. Not only did none of the eggs crack, every one peeled more easily than ever before! I tried this method with hot boiled eggs and also with boiled eggs that had been refrigerated. Worked great both times.
I don't know how the hole makes for easier peeling, but it certainly does. Try it.
Note: I always peel my eggs under running water. Once water gets between the shell membrane and the egg, the shell slides off easily, sometimes in as little as three or four large pieces.