Persian Rice with Potato Tadig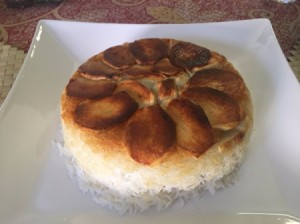 This is my late grandmother's recipe for a the most perfect Persian rice that my mother has mastered. Tadig is panfried layer of crust at the bottom of the pot under the rice. It can be made with the rice itself, bread, or potatoes. This recipe uses potatoes, which is one of my favourite ways to have it.
Prep Time: 3 hours soaking time
Cook Time: 45 minutes
Ingredients:
2 cups uncooked basmati rice
water
2 Tbsp salt
2 Tbsp cooking oil
2 Tbsp butter
1 medium russet potato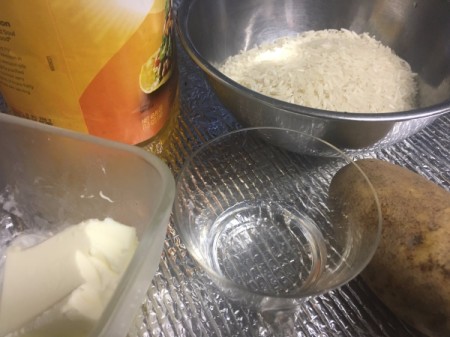 Steps:
Pour dry rice into a large bowl. Add enough water to cover the rice (I go over the rice by about half an inch), add salt. Let rice soak for at least 3 hours.
Drain the soaked rice. Boil about 5 cups of water in a large pot. Add rice to boiling water.
Stir the rice a couple times while it's cooking. After around 10 minutes, the rice will be al dente.
Pour the al dente rice into a colander and rinse with water. Set aside.
Peel potato. Chop into thin slices.
In a pan or pot (I used a 7 inch pan with high sides), add 2 tablespoons of water and 2 tablespoons of cooking oil.
Cover the entire pan with your slices of potato in a circular fashion.
Little by little, add your al dente rice on top of the potato slices. You add them slowly in order to keep air between the grains for proper cooking and less sticking.
When you've added all your rice, turn the heat onto medium to medium-high. Take the back of a spoon and make little holes in the rice so steam can escape.
Cover the rice with a kitchen towel or paper towel, then cover with your lid (towel not pictured here.) After about 5 minutes of cooking, turn the heat down to low and cook for 25 to 30 minutes.
When it's done cooking, add little chunks of butter to the top.
Press a large serving plate against the top of the pot and flip the rice over onto it. Cut in wedges like a cake and serve with a stew or meat. Enjoy!
Add your voice! Click below to comment. ThriftyFun is powered by your wisdom!
July 29, 2017
0

found this helpful
Okay - I'm disappointed!
We made this - it just looked and sounded delicious and I love basmati rice. So - why am I disappointed?
Our finished product did not turn out near as pretty as yours!! But, it was delicious so all is forgiven. We'll worry about how it looks next time.
thanks again.
Betty
July 29, 2017
0

found this helpful
Aww I'm sorry it didn't turn out pretty but don't worry, it's usually a thing of practice! I think it took me half a dozen times to finally start making it look all cake-shaped like this.
That being said, I still always LOVED the flavour no matter what it looked like. I'm so happy you made this! :)
January 18, 2018
0

found this helpful
I have never heard of Tadig with just butter and no Saffron. Is this just a typo error ?
April 24, 2018
0

found this helpful
No, not a typo. Tadig literally translates to "bottom of the pot" so any crust you make qualifies as a tadig. We make them with potatoes and many other things, too.
Add your voice! Click below to comment. ThriftyFun is powered by your wisdom!
Categories
Pages
More
Categories