(Guest)
Gold Post Medal for All Time! 846 Posts
I wanted to come up with a homemade personalized gift for my best girlfriend of 42 years. She happens to be an avid reader and this is what I came up with, and with items I already had on hand :-)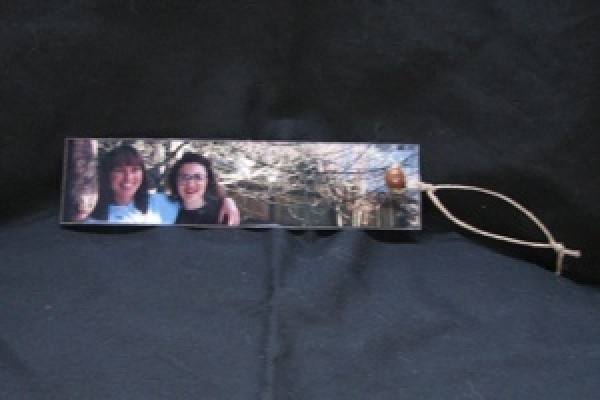 Materials:
small photo (3x5 inch works well)
2 inch wide clear packaging tape
pencil or pen
scissors
ruler
hole punch
thin twine, yarn, or embroidery thread
a bead, if you would like to use one
Instructions
I think the picture will help explain, I hope.
Find a favorite photo (matte photos or regular paper printed photos work better than glossy photos).
Use the ruler to draw two lines with pen or pencil for a cutting guide around the portion of the photo you would like to use as the bookmark, but make sure the lines are only about an inch and a half apart. (The photo I chose is a couple of decades old and was where the shot was taken a bit of distance away so that our images weren't taking up the entire picture.)
Cut along the lines you drew.
Now place the photo on a flat clean surface.
Pull out a bit of extra tape, longer than the length of the photo and carefully start placing it on one edge of the photo. Be sure you slowly and smoothly rub the tape as you work towards the other end.
Now turn it over and place the tape the same way on the other side. Press the tape well along all of the edges and then cut the excess tape away from all sides of the photo.
Punch a hole at either end of the now encased photo, wherever you wish to place the hole.
What I did is string a bead through a very thin piece of twine to the center of the twine.
Then I pushed the two ends through the hole punched portion of the photo, looped the two ends through the hole again and knotted them. Then I made a little loop and knotted again. You don't need to be as complicated as using the bead idea.
You can use just about any paper or cloth item to make a nice personalized bookmark like this. How about a piece of fabric from a favorite dress, shirt, pants, blanket, or some wrapping paper, a portion of a greeting card, or your baby's first haircut clippings on a piece of blue or pink paper. Hey, the sky is the limit!
For those of you who remember my request and helped me last year about ideas regarding my childhood blanket, well, guess what, I have a bonus childhood blanket bookmark now. My only word of warning is to practice with something you aren't worried about losing/messing up first, LOL!
Have fun and please share a photo of your creation if you use this idea.
By Deeli from Richland, WA
Comments

August 17, 2009
0

found this helpful
This is the perfect gift for that special person who has everything! Thanks just got laid off, so many folks will probably be getting one of these "good times reminders" for Christmas!

Cyinda
Bronze Post Medal for All Time! 213 Posts
August 18, 2009
0

found this helpful
I just love this idea! It would also make a great thing for teachers to do. Have kids make bookmarks with pictures of themselves for Mother's day, etc. Nothing like an awesome bookmark to help a child want to read more!
I also like the way you can slip this little gift into a greeting card. A wonderful way to send a special gift through the mail to friends & family far away!

August 18, 2009
0

found this helpful
I love this idea. My granddaughter (just turned 2) loves to hold and look at pictures of her family but always (accidentally) tears them. This way she can have some to hold and they won't tear as easily.

August 23, 2009
0

found this helpful
Neat idea! Gonna do it right away!
Read More

Comments