B'Louie was a five year old blue crayfish (Procambarus alleni) at the time of this photo, but no longer with us. She is missed!

When a friend of a friend gave us a 55 gallon fish tank, we were delighted to receive a blue crayfish with it. "His" name was Louie, but we learned that it was a female, so we renamed her "B'Louie" which sounded a little more feminine! I had never seen such a vibrant blue creature!

Although B'Louie is no longer living, I remember her habits well. She loved to come out from her hidey-holes and wave her claws menacingly at passing fish. She was also fond of shrimp pellets, bits of raw potato, and the occasional green pea. She would spend most of her time poised at the entrance of her favorite cave, as in the photo, ready to dash out as soon as food was forthcoming. She also liked to move aquarium gravel from one side of the tank to the other.

I had never known that crayfish could be kept as pets, nor that the blue coloration occurs naturally in some species as a mutation similar to albinoism. Blue crayfish like B'Louie are available at some pet stores and by mail order over the internet. She is the species "Procambarus Alleni" but other blue species are also available. Crayfish make excellent aquarium pets, and I'm sure that from now on, we will never be without one in our tank!
By Shawna from Paris, TN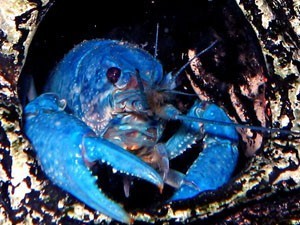 Comments
February 5, 2009
0

found this helpful
Wow! That is the first time I have ever heard of a crayfish or crawdad as we used to call them in Texas being kept as a successful pet...this is wonderful....
I think the coloring is beautiful as well...how amazing t he lord is to make such wonderful and beautiful creatures.....
Racer
By bbjdturner32 (Guest Post)
February 5, 2009
0

found this helpful
Hi Shawna!
Thanks for posting about B'louie it put a smile on my 2 sons' faces! We are thinking about setting up a fish tank and wanted to know what was the minimum size tank to use for a crayfish, and what equipment do you use to set it up with?
By Shawna (original poster) (Guest Post)
February 5, 2009
0

found this helpful
bbjdturner32,
A good size tank for a single crayfish would be a 5 or 10 gallon, although we have kept very small individual crayfish in those little one gallon tanks designed for male bettas. At one time we had 6 one gallon tanks, a two gallon, 2 five gallon, a 10 gallon, and also our 55 gallon tank, and each had a crayfish in it. Unless you have a large tank with LOTS of hiding places, one crayfish per tank is all. They will sometimes attack and kill (eat)each other. Crayfish REQUIRE oxygenated water. Either from an air pump and air stone, or a small submerged filter that is run by an air pump, or the conventional filters that cause a fall of water into the tank. Putting a cray into a tank with no water movement will in effect "drown" it after a while.
If the power goes out, it is best to put your cray in about an inch of water in a bucket, only deep enough to just cover it. Most crayfish species don't require a heater, and some actually will perish if the water is too warm. Be warned that crays often eat fish, and that some fish larger than your crays will sometimes eat your cray! This may seem impossible, but crayfish go through a molting period when they shed their hard shells and are soft and squishy and vulnerable for a while.
If the tank is large enough they can usually avoid each other, but be prepared for this. Also, crayfish are amazing escape artists... you must make sure that the tank has a secure lid and that all openings are covered or at least out of the cray's reach (they can climb up air lines and filters, too). But their climbing and digging abilities are part of what make them so interesting!
A wealth of crayfish keeping information is available in the links, FAQ, and forums found at this website: http://bluecrayfish.com
I hope my submission of B'Louie has inspired others to seek out the amazing but usually undiscovered joy that is found in crayfish-keeping!
February 5, 2009
0

found this helpful
How amazingly beautiful she is! I read a quote the other day that a woman needs only two things, to be classy and fabulous, and this one is both, this stylin' crayfish!
Read More Comments