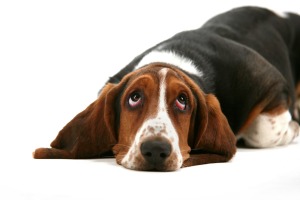 My husband and I recently divorced, he is moving out Sat. I'm worried about our doxie, Junior, being traumatized with his daddy leaving. Should I stay and let the dog watch the moving out process or leave and take him with me, to come back to Daddy being gone?
J.E. from Portland Area
Answers
By Paula (Guest Post)
June 17, 2008
0

found this helpful
I don't think that the method really matters, your Junior will still feel the affects of losing "one of the pack". When my ex moved out my two furbabies were sad for about a week, I could just tell their behavior was different. But, they got over it and the few times they have seen him since they are excited just as they are when they greet anyone; then, they just settle down. When he leaves again, they are just fine. Good luck with your Junior and let us know what you decided to do and how it worked out for you.

June 17, 2008
0

found this helpful
I would really suggest you and the dog stay, but only if it will be reasonably comfortable. If the situation is so bad that there will be heavy stress and possible screaming/arguing, then definitly go. If things are that stressful, I would suggest leaving, but letting the dog stay.
I think of it this way, the dog may or may not understand. If it does, then it needs to see and know whats happening, and recognize its daddy is moving.
If the dog doesn't understand, then it hurts nothing to let it stay and say a goodbye to your husband. At least it will have the chance to see him walk out the front door, and not always be sitting at the bathroom or bedroom door, waiting for your husband to walk in.
By Me (Guest Post)
June 18, 2008
0

found this helpful
I've had 3 boyfriends move in & out over the years & they all loved my dogs. I never had any dogs grieve or be upset when they moved out. As long as you are the constant in their lives it probably won't be a problem. Most dogs adapt very well. Personally I had my dogs with me at a different location each time.
I don't think them seeing the process helps at all. They will know something is different anyway when you get home. Don't make anything out of it, just act like nothing's different & give them treats to distract them when you get home.
By Katastrofy (Guest Post)
June 18, 2008
0

found this helpful
My ex and I divorced several years ago. The dog was his best friend, slept on the bed with him, followed him around. Totally attached to him. When he moved out, I took the dog for a walk and returned home when he was gone. I made sure the dog got extra attention and treats and lots of walks and time with me. It took about 2 days for her to stop looking for him, and now, when he visits her, she treats him like any other visitor to our home.
Greets him at the door, and then ignores him and comes to sit with me. Animals are very adaptable and they surprise you with how well they deal with change, as long as they have someone who shows them they are well loved and cared for. So hang in there. You will both survive this and come out stronger for it!

June 18, 2008
0

found this helpful
My husband is an over the road truck driver that is only home 4 days every 35 or 40 days. Our "Lucy" loves him very much and is just all over him when he comes home. But she handles the seperation better than I do! She wanders around "looking" for him the first day or two after his home-time, but after maybe the second day she is fine.
God Bless,
Sheila in Cocoa, FL

August 8, 2009
0

found this helpful
My adult son moved out recently, and our dog--who basically was his shadow. Would get agitated if we mentioned his name, sat at the front window watching the driveway at dinnertime, and generally sulked, for about two days. After that, it was life as usual.
Dogs are our best companions--but they're not humans. We tend to attribute human characteristics to them--but the fact is that they're probably a lot more emotionally resilient than we are.
As long as the parting scene is kept as low-key as possible, the transition should go smoothly for your dog.

Cricket
Bronze Post Medal for All Time! 205 Posts
August 8, 2009
0

found this helpful
Your dog will definitely be traumatized. But luckily with dogs it doesn't last as long as with people. Just be sure and give him lots of extra love and attention so that he realizes that you arean't going to be leaving too.
Like GrammaShelia I'm also a trucker's wife with dogs (2 doxies). One thing I've learned with mine, is that it's different with truckers or with a grown child moving out (unless they move across country). With truckers, the dog gets accustomed to him only being home a few days then leaving again. They miss him for a day or so but they get accustomed to the comings and goings.
But with a divorce, the other party is not returning and the dog has no way of understanding this or why. So they need a lot of extra love and understanding. But within a week at most the dog should be recovering.
It'll be hard on both of you, and you and the dog will be a big help to each other. And doxies are such loving little dogs to begin with, he'll soon direct all the love he had for your husband over to you.
As far as staying or leaving during the moving out process, do whichever is best for YOU, and it'll be the best thing for Junior too. One thing to remember tho, if you do decide to stay, you'd be better off keeping Junior on a leash next to you untill all the packing and moving is done. Dogs (and cats) have been known to sneak into a box, suitcase, or whatever to keep from being left behind. Don't forget that he doesn't realize it's only your husband that's leaving, not you too.
Answer

this Question
My husband and I are going through a divorce and I will be moving. We currently live on a ranch and have two dogs. One is a Border Collie mix who lives to watch the horses, he is about 6 years old and we found him about 4 years ago. He is more connected with me than with my husband, but doesn't spend too much time with either of us as he is most concerned about what the horses are doing.
The other dog is a Jack Russel, also found, he is about 5 years old and we have had him for 4 years. I am the cuddle person for him, but he spends more time with my husband, doing chores on the ranch.
I want to know what would be best for them with regard to our divorce. If they come with me they will get better care, more nurturing, etc. but the Border Collie will have to be penned during the day and will be in a confined, though somewhat large space the rest of the time. I would certainly take him for walks, etc., but he won't have the horse or the ranch. The Jack Russell would be in a pen during the day (he is now) and with me in the house at night, but would not have the hours of ranch time he has with my husband. My gut says that they would be happier on the ranch and will get over my absence, but my fear is that the level of care will decrease. They would be fed and have shelter and the Jack Russell would be with my husband quite a bit, but they would not have as much nurturing, petting, and one on one play with me. I want what is best for the dogs. What do you think?
By KelliC
Answers

Myrna
Bronze Feedback Medal for All Time! 168 Feedbacks
November 5, 2014
0

found this helpful
You can get visitation rights.
Read More

Answers