Catherine Forman
5

found this helpful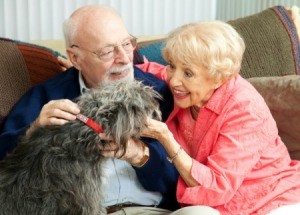 Have you heard about the amazing health benefits that come with having a pet?
Having a pet helps lower blood pressure and reduces heart rate.
Having a pet helps ease symptoms of depression.
Having a pet makes it easier to make friends!
Pets offer unconditional love and affection.
Pets can help ease the loss of a loved one.
Having a pet can help make you more active.
Having a pet can help make you take better care of yourself, if only because your pet is depending on you.
For the elderly, these benefits are even more important. Think about how many older people are living alone in senior communities or retirement homes. Many people become depressed without the daily interaction a job and family gave them.
Pets provide a routine, and a sense of responsibility. You can't stay in bed depressed for too long if there is a dog or cat waiting for you to feed them and take them out. And taking your pets for a walk is a great chance to meet new people! How often have you stopped someone as they were walking their dog, just for a chance to pet it and ask a few questions? It may not mean much to you, but to the pet owner, they have a proud glow and that all-important human interaction.
Would you believe that 95% of elderly pet owners talk to their pets? (I would, but I talk to my dogs all the time.) For a lot of older people, they may only have their pets to talk to. More than 80% of elderly pet owners said their pet helps them when they feel sad, and more than 70% said their pet helps them when they feel physically unwell.
Perhaps the biggest beneficiaries of the relationship between elderly person and pet are the pets themselves. It's sad to think that there may be as many as six million homeless dogs and cats euthanized each year because there simply isn't enough shelter space for them to wait for a home. An older person who rescues a pet isn't just helping themselves; they're saving a life.
That's not to say you should buy your gramma a puppy or kitten. A person who doesn't want a pet shouldn't be forced to have one, or surprised with one! Let the person visit a shelter and pick a pet that seems right for them. You wouldn't give your 80 year old grandfather a highly active Labrador puppy, would you? He might prefer life with a laid back mature dog who will sit at his side faithfully through their golden years
Comments
By sexybob (Guest Post)
December 3, 2006
2

found this helpful
i think that pets really do help the elderly. I have a pet and I'm eighty years old. My dog Liba always keeps me active beacause i have to talk her out on walks and get up and feed her. She helps me not feel lonely. I always enjoy petting her and playing catch in the backyard!
May 8, 2012
2

found this helpful
This is so true! One thing that needs to be kept in mind however, is the cost of veterinary care. Many of our elderly live on fixed incomes, often a check of $1000 a month or less.
My last trip to the Vet for a minor problem was $400. One needs to find a Vet that will discount for older pet owners (I'm still looking) or be sure to set aside money for the inevitable vet rrip (I meant to say trip, but I rather liked the typo).
August 15, 2017
2

found this helpful
Pets make great companions! I am 65 and use a walker and my cat Teddy is my special buddy, he and I go every where in the house (he likes to ride on the walker seat) and I talk to him all the time. He even eats breakfast with me, nonfat yogurt and then goes for a well deserved nap. We (my husband and I) also have three dogs that complete the family and yes we talk to them too!