Pho Bò (Vietnamese Beef Noodle Soup)

Jess
Silver Post Medal for All Time! 267 Posts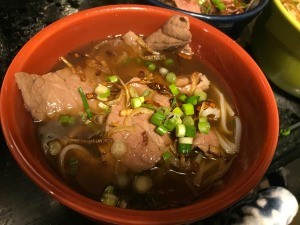 This delicious soup is a favorite at my local Vietnamese restaurant. I thought it would be fun to try to make it at home. I made it from scratch, including the beef broth. I also made crispy fried shallots (hành phi). Store bought broth and crispy shallots or onions would be just as delicious.
Don't be intimidated by the amount of herbs and condiments listed. They are just options that are often seen at Vietnamese restaurants and you may already have in the fridge or cupboard.
Link: Here is the recipe I used to make my own broth.
Ingredients:
8 cups beef broth (bone broth is best)
1 cinnamon sticks
4 star anise
5 cloves
2 inches of ginger, sliced thin
5 cloves of garlic, minced
1+ teaspoon fish sauce (mam, nam pla)
salt to taste
thin rice noodles (banh pho)
1 lb top round steak, sliced thin
2 green onions, sliced thin
Crispy Fried Shallots (Hanh Phi)
2 large shallots, sliced thinly
2 cups neutral oil
Garnishes
Thai basil (not sweet) and any combination of additional herbs: cilantro, mint, Vietnamese coriander (rau ram), culantro (ngò gai), Vietnamese Perilla (tiá tô)
Thai chilies or jalapeno, sliced
mung bean sprouts
lime or lemon wedges
Condiments as desired: sriracha, hoisin sauce, soy sauce, flavored fish sauce (nuoc cham), garlic chili sauce (tuong ot). There is a delicious chili lemongrass sauce (Tuong Ot Xa) that is often served with these other condiments but I haven't made it yet.
Some shopping notes:

I used a spice package from an Asian grocery store that was intended for pho bo. It contained star anise, fennel seed, coriander seed, cinnamon, cloves and cardamom pods. Feel free to adjust the spice blend to your preference and add some of these in, although most recipes online only call for the three spices listed in the recipe.

The rice noodles I purchased were wider than are recommended for pho. It would be like using wide fettuccine instead of linguini. Look for rice sticks (banh pho). You can even use rice vermicelli if that is all you can find. Luckily, most grocery stores nowadays have a decent selection of Asian products and many towns have grocery stores specializing in Asian foods or can be ordered online.

You can buy the crispy fried shallots or even use the fried onions that are used for green bean casserole.


Steps:
Toast your spices, garlic and ginger in frying pan over medium heat, stirring regularly to avoid burning them, about 3 minutes. If you have access to a spice bag or cheesecloth, allow them to cool and then put the spices inside. This will make it easy to remove them after the broth has simmered. If you don't have access to one or forget (like me), you can use a strainer or a skimmer to remove them.
Add the spices to the broth and bring the mixture to a boil. Turn it down and allow the spices to simmer for about 20 minutes. Keep it covered so that you don't lose too much volume from steam. Be sure to remove the spices right away as the flavors will continue to get stronger. Keep your broth at a simmer for the next step.
You can make the crispy fried shallots while you are waiting for the broth to be done or you can make them earlier in the day. First, line a plate with a couple of paper towels and place the shallots on them. Spread them out evenly. Microwave the shallots for 1 minute to soften them. Spread a couple more towels over the top and flip the plate, to dry the shallots.
Take the dry shallots and two cups of oil and add them to a cold pan. I used the same frying pan as my herbs but it was really too shallow. Use a medium sized deep pan so you can scoop out them out easily when they are cooked. Heat the oil to 250 degrees F and cook the shallots until they just start browning, about 8 minutes. Stir them occasionally for even cooking. Remove to a paper towel lined plate to cool.
Start a pot of boiling water to cook the noodles in. Prepare your garnishes if you have not already. Follow the package directions to cook the noodles, usually 8 minutes. When they are done, divide them into 4 deep soup bowls.
Add your fish sauce to the broth and taste it at this time. You can add more fish sauce or salt, if desired. Make sure the broth is still simmering and add the sliced steak pieces to the broth for about 30 seconds then place in the bowls. I did one bowl at a time to make sure I didn't overcook the meat.

Top each bowl with sliced green onions and crispy fried shallots. Save the excess shallots to add to another recipe, just keep them in an airtight container so they stay crisp. Ladle broth into each bowl and it is ready to serve. If you have extra broth, freeze it for quick pho later.
Garnish your pho with Thai basil, mung bean sprouts, chilies, lime and any other topping you might like. Enjoy!
Add your voice! Click below to comment. ThriftyFun is powered by your wisdom!
Published by ThriftyFun.
© 1997-2022 by Cumuli, Inc. All Rights Reserved.
https://www.thriftyfun.com/Pho-B-Vietnamese-Beef-Noodle-Soup-1.html