Vietnamese Soup Recipes
Solutions
Share on ThriftyFunThis page contains the following solutions. Have something to add? Please share your solution!
May 26, 2009
4

found this helpful
Spicy, low fat soup. My husband and I had wonderful soup at a local Vietnamese restaurant and I tried to duplicate it at home. It's not exactly the same, but pretty close!
Ingredients:
5 (14 oz.) cans vegetable stock
2 Tbsp. garlic chili sauce* (Tuong ot toi veit-nam)
1 Tbsp. Sriracha hot chili sauce* (Tuong ot sriracha)
1 bunch of scallions, chopped
1 bunch of fresh cilantro, chopped
8 oz. of stir fry vegetables**
1/2 package of plain Chinese noodles (broken into smaller pieces)
dash of lemon juice
1 (8 oz.) container of bean sprouts
*These are distributed by Huy Fong Foods, Inc and can be found in the Asian or Ethnic section of most grocery stores.
**I use Marjon fresh stir fry vegetables in a bag - the veggies are napa cabbage, Chinese cabbage, cabbage, carrots, red cabbage, bok choy, onions, savoy, broccoli and snow peas
Directions:
Pour the stock into a large pan. Add the garlic chili sauce and hot chili sauce. Add 3/4 of the scallions and 3/4 of the cilantro. Turn the heat on low and cook for about 20 minutes. Add the vegetables and cook for 10 minutes.
Add the Chinese noodles, a dash of lemon juice and 3/4 of the bean sprouts and cook for 5-10 minutes.
Serve the soup and put the remaining scallions, cilantro and bean sprouts on the side adding as you like.
I usually also make vegetable egg rolls or spring rolls to go with the soup.
Servings:
2
Time:
5 Minutes Preparation Time
45 Minutes Cooking Time
By Lisa from Tampa
I recently came down with a killer cold and wanted chicken soup. However, I don't really care for traditional chicken noodle soup, especially the canned kinds. It was too late in the evening, and I felt too lousy to make a batch of homemade. What I really wanted was Pho - I adore it! But I didn't feel good enough to do the driving to the nearest restaurant, and the post-Christmas budget is tight.
So after taking stock of what I had on hand, and a quick trip to the grocery store, this is what I came up with. The kids pronounced it amazing, ate 2 bowls apiece (highly unusual), made me promise to add this to the foods we eat more regularly, and said it was even better the next day when we finished it off. We got about 10 regular sized soup bowls from this recipe. My chicken pho inspired, "I have a cold and I want chicken soup" recipe
Ingredients
1 grocery store rotisserie chicken (the pre-cooked ones)
2 - 49 1/2 oz. cans Swanson's chicken broth
2 tsp. Wyler's chicken bouillon powder
1 1/2 cup water
10 large green onions, chopped at least 1/4 inch thick (use greens), if onions are small, use 12
2-3 cloves garlic, pressed
1/2 tsp. grated fresh ginger
6 smaller inside stalks of celery, with leaves, otherwise 3-4 large outside stalks, chopped at least 1/4" thick
1/2 onion, sliced in paper thin rounds
1/2 of an 8 oz. can sliced water chestnuts, halved (into half moon shape)
1- 14.5 oz. can bean sprouts
1/2 of an 8 oz. can bamboo shoots, sliced in half again lengthwise
1/4-1/2 tsp. Morton's Nature's Seasoning
1 tsp. dried basil
1 jalapeno sliced thin, deseeded if you don't like the extra heat
1 lime cut in chunks
1 package rice vermicelli (I prefer Guilin brand for this as the noodles are thicker than some of the other rice vermicellis. Comes in a 400 gram package)
Directions
Remove the skin from the chicken, then remove all the meat from the bones. Coarsly shred or chop in 1/2 inch chunks.
Put the canned broth, powdered bouillon and water in a pot. Add chicken, green onions, celery, garlic, ginger, basil and seasoning salt.
Bring to a boil, then reduce heat and simmer for about 15 minutes. Add sliced onions and continue to simmer.
Begin cooking noodles according to package directions. When there is 5 minutes left of cooking time, add the water chestnuts, bamboo shoots and bean sprouts to the soup. Continue to simmer until noodles are ready.
To serve:
Place desired amount of noodles in a bowl, then ladle the soup and broth over. Stir in a jalapeno slice and squeeze of lime juice if desired. Add a few drops of sriracha sauce if desired.
Note: Any of our subscribers who may be Vietnamese, I hope I'm not offending anyone by this, calling it faux pho. I truly love your traditional soup, and while this is different, it was pho that served as my original inspiration and was all I could think of calling it.
This is a delicious soup. Its perfect for cold weather and pairs well with French bread.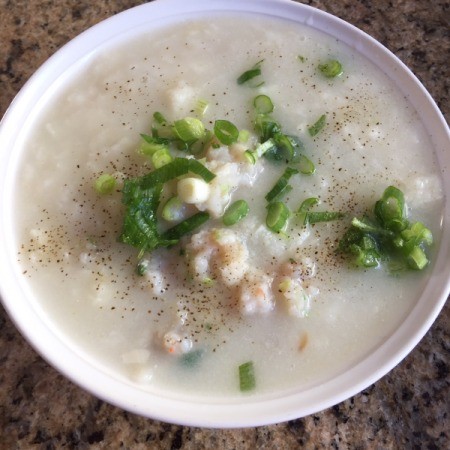 Read More...
July 11, 2018
1

found this helpful
This page contains a Vietnamese chicken and shrimp noodle soup recipe. This Vietnamese soup is full of flavor and is easy to make.
The best part is that you create the broth as you cook the ingredients.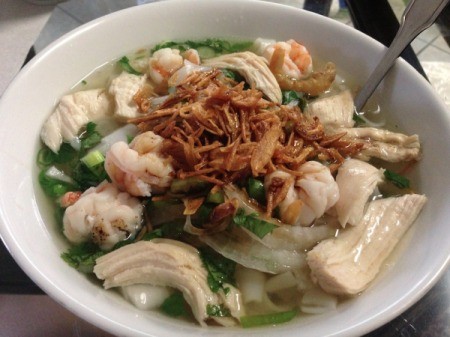 March 25, 2019
0

found this helpful
Vietnamese cuisine has many delicious noodle soups besides the famous pho. Use egg noodles and Asian flavors like shrimp and pork to make this savory soup. This page is about making Vietnamese shrimp, pork and egg noodle soup (bun rieu).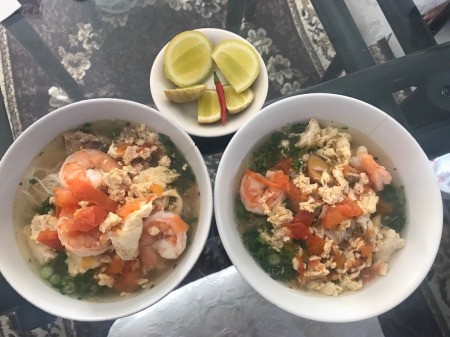 March 13, 2019
0

found this helpful
Instead of going out, you can save money and make your own delicious pho at home in your instant pot or pressure cooker. This is a page about homemade Vietnamese pho.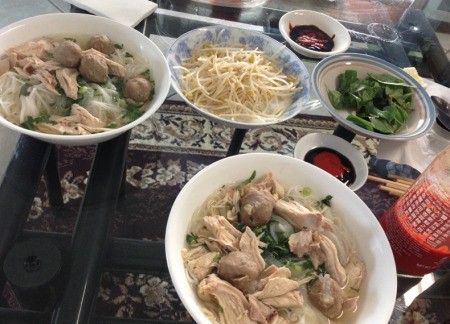 April 4, 2017
0

found this helpful
Fish, tropical fruit, green onions, and seasonings combine to make this tasty light soup. This is a page about Vietnamese sweet and sour fish soup (canh ca chua not).