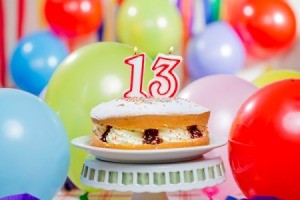 My daughter is turning 13 in May and we are trying to plan something without relying on the weather cause we don't have an undercover area and our house is small. There are 20 girls and we were going to do a campout sleepover watching an outdoor movie, toasting marshmallows, pizza, movie food, etc. Any other suggestions for this amount of girls or does this sound good?
By Nikki from Sydney, Australia
Answers
March 21, 2011
0

found this helpful
It sounds like plenty to me. Actually it is more than I would ever do for any birthday party.
March 22, 2011
0

found this helpful
That sounds awesome! I wouldn't plan to much more because at that age, girls just like to gossip about boys and school, so you need to leave room for that!
I would suggest a classic movie, like "Now and Then". I think I watched that movie for the first time in Jr High and it is still a favorite!
March 24, 2011
0

found this helpful
It sounds like plenty but you can incorporate a few games.
May 18, 2011
0

found this helpful
You could get some campfire songs and sing them or get games you can play round the campfire. :)
January 14, 2016
0

found this helpful
You could try going to the cinema or going bowling though your idea is great!!
January 27, 2016
0

found this helpful
This sounds great, they will love the camp out n time to chat n be silly! My 12 yr old turns 13 end of Feb and wants a camp out party....not sure bout our weather tho!
Hayley from England
April 18, 2016
0

found this helpful
I'm also turning 13 in May. I'm thinking about doing something like bungee jumping, zip-lining, and other. I like speed and heights, but with four other siblings, there's not much I can do.
May 23, 2016
0

found this helpful
Girls don't just mostly talk about boys.
Answer

this Question
My birthday is in around a month and I was trying to think of a theme/games for my party. I am not into painting my nails and stuff like that. I was thinking about having 3-4 friends over and decorating cupcakes! Is that a good idea or are there any other ideas?
Thanks for the responses!
Answers
July 29, 2019
0

found this helpful
Make the theme uniquely you. Have your guests dress any way they want. Have many decorations for toppings. Before the party, have them submit a list of things they do well and their favorite activities. Make a game. Read off each list and have everyone guess who wrote it. The person with the most correct wins a prize.
July 29, 2019
0

found this helpful
I think a cupcake decorating party would be amazing!! There is so much you can do with it! You can have a contest and give a prize for the most unique decorations, the tallest icing, or the most colorful.
Cupcakes are easy to make from scratch or from a boxed mix. You could have them prebaked and then have all kinds of inexpensive decorations (both edible) and then you could have toothpicks and paper to decorate flags and other creative (non edible decorations).
If you or your mom or dad or other family member have a Pinterest account you can look at that site for ideas. Put cupcake decorations or cupcake parties into the search and there are LOTS of neat ideas!!
You can then get some ice cream and candles and have the cupcakes be your cake that you blow out the candles and make a wish with!
I think this could be a lot of fun!! Post back with updates and have a blessed and amazing 13th birthday!!
July 29, 2019
0

found this helpful
Combine your idea with a sleep over,with cool games!
July 29, 2019
0

found this helpful
That's a wonderful idea! Just make sure other non-sweet foods are available. You don't want all sugar ;)
Answer

this Question
My daughter is turning 13 this year and I'm having trouble planning a birthday party for her. I'm trying to figure out the theme and I was wondering if anyone had any ideas for one? It is in winter and we don't have a lot of grass in our backyard because of our pool taking up all of the space. Although we do have a large driveway for some activities. She has 9-12 friends coming over for her party. but I'm not sure what to do with them all.
Please help!
Answers
May 6, 2018
0

found this helpful
Have a karaoke party. Then have them decorate their own cupcakes. If it is a dinner party have them create their own mini pizzas
May 6, 2018
0

found this helpful
it all depends on the budget. If it has to be at home, then games, or karaoke, or movie night and sleepover are always good. If they are 'girly girls', then invite a local Avon or Arbonne or Lu Lu Lemon or other MLM lady to give a demonstration - they all get a makeover, or to try on fun clothes, etc and at the end of the night y'all can buy something from the woman to make it worth her while.
Answer

this Question
I'm trying to plan a surprise party for my best friend. Her little sisters (there's three of them) get a birthday party every year and, by the time it comes to her birthday, her mum and dad can't afford a birthday party for her.
I've only known her a year, but we're already like sisters, so I want to throw her the best party ever. I've decided to make the party chocolate/baking theme (she loves both), but I don't know how to do it. It can't be at her house, I might be able to do it at my house. She also loves Olly Murs, swimming, singing, and playing the violin (we get lessons together).
Thankful for any suggestions!
P.S I'm in Scotland so I can't do anything that would be in America!
By HH
Answers
October 28, 2014
0

found this helpful
Last year I had a chocolate party. I made chocolates with these chocolate people. But you could probably find out how to do it on YouTube. Whilst the chocolate set we played chocolate games e.g guess the chocolate, chocolate quiz, etc. Then for food we had a cold buffet.
Hope this helped.
Answer

this Question