Getting ahead of the pack... here is an Easter Wreath of plastic eggs. All I did was to hot glue the plastic eggs to a wreath form that I had covered with spanish moss.

After the eggs were set, I poked in Easter "grass" to fill in the holes. I hung a plastic flocked bunny (bank) from the 99 cent store to the middle. Oh, and I got the eggs from Wal-Mart (after Easter the year before) and the 99 cent store.
By Great Granny Vi from Moorpark, Ca.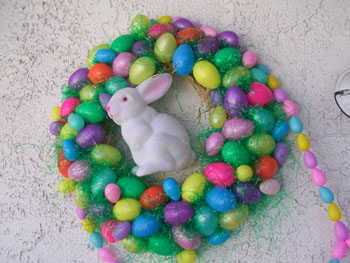 Answers:
Plastic Easter Egg Wreath
What a cute idea, it is precious and inexpensive! (02/01/2006)

By MissyD
I love how full it looks. Using different sized eggs looks great! (02/01/2006)

By Katie A.
Plastic Easter Egg Wreath
Adorable! I saw one at a shop last year and wanted to make one but didn't know where to begin. Thanks for the info (02/01/2006)

By apmacik
Plastic Easter Egg Wreath
Cute and thank you for sharing your "how to"
with us. Very cute and sweet. (02/01/2006)

By meoowmom
Plastic Easter Egg Wreath
Wonderfully colorful idea, GreatGrannyVi. It would look especially welcome in the colorless northeast where I now call home, although I'm currently enjoying the beautiful 'winter' weather of Ventura county. (02/04/2006)
By RobbyK