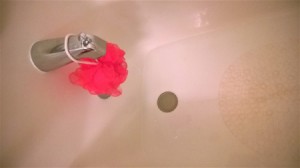 When I fill the tub for a hot soak, I lose water over time.
And the noise drove me batty.
So I experimented with three different things to make it stop, or the Goldilocks Principal.
The first one was styrofoam and it floated.
The next was metal but I knew it would rust.
The last one was plastic cut from a sour cream lid and it works "Just Right"!
I live in a complex where a work order takes over a month. I can't even get them to clean the gutters so I knew this was something I had to do myself.
N-JOY!