Does anyone know how much it might cost me to repair a broken bathtub drain? The lever will not stay down to let the water out without holding it by hand.
Thank You
Barbara in Freehold, New Jersey
Answers:
Fixing a Bathtub Drain
We have the same problem with our drain. We're going to get a flat rubber plug that you can lay over the top of the drain. Cheap solution, but would love to hear others. (09/23/2004)

By Ann
Fixing a Bathtub Drain
I have the same problem. I hang a wet washcloth on mine to hold the lever down so the tub can drain. The weight of the washcloth is enough to hold it down. My husband does not know how to fix it. (09/23/2004)

By Katherine
Fixing a Bathtub Drain
What I suggest is that you need to take the screws out of the drain lever cover, remove the shaft, after doing so, adjust the thing that hangs at the end of it. I'm not that mechanical so I don't know the correct phrasing for the parts, but I can almost promise you that it will work.
Contact me at: saejjm AT ixpres DOT com if you have any questions.
Good luck! (10/08/2004)

By saejjm
Fixing a Bathtub Drain
The problem is the spring behind the cover plate that mounts to the bathtub wall is probably broken. All you need to do is pull out the plunger (wall plate and all) and take the part to a hardware store and match up the spring size and reinstall. Takes about 3 minutes minus the trip to the store. (10/11/2004)

By Dustin
Fixing a Bathtub Drain
I would go to my local hardware store like Lowe's or Home Depot and see if there is replacement parts to the tub for the drain, and then ask a lot of questions of any employee you can find (questions are free). Then attempt a DIY repair. If it does not work, get a rubber stopper. Mine does the opposite, it will not allow me to fill tub, so I too have a rubber stopper. My .89 cent cure. (10/12/2004)

By Juli
Fixing a Bathtub Drain
Don't waste your time at Home Depot, they don't carry replacement parts for this type of drain. They only sell the entire drain. A local hardware store is your best bet. You should be able to replace either the entire mechanism or just the lever/cover combo. As a previous post stated, once you get the part it is a 5 min fix. (12/04/2004)

By steve
Fixing a Bathtub Drain
Remove the two screws holding the plate on, pull the linkage out with the cover, remove the cotter pin on the back side of the lever, this should release the spring. Using two pair of pliers, stretch the spring out a little, reassemble and reinstall. (07/05/2005)

By Jeff
Fixing a Bathtub Drain
Check out the URL below for common drain types and how to check them:
http://www.lowes.com/lowes/lkn?action=howTo&p=Improve/RepTubDrn.html&rn=RightNavFiles/rightNavHowTo#a1

As for removing a tub drain with pliers...forget it. Get a tub drain remover (about $10). Check out one ad online:
http://plumbing.hardwarestore.com/51-290-tub-and-shower-drain-repair/tub-drain-remover-603482.aspx
(08/02/2005)

By Denny
Fixing a Bathtub Drain
How do you remove a drain after the cross (inside) breaks off, and the drain is smooth? I read about something called the Golden Extractor, but I have not been able to find a tool.

Editor' Note: We added this as a new request:
http://www.thriftyfun.com/tf136204.tip.html
(08/12/2005)

By Rob
Fixing a Bathtub Drain
If you break off your cross hairs, a normal tub drain remover for $10 will not work. You need to buy something called a "Drain Key". This item costs anywhere between 27 to 32 dollars depending on where you get it (order it online from azpartsmaster, it's cheaper than from www.plumbingworld.com). Anyway, it expands and grips the inside of the drain. http://www.azpartsmaster.com/shopazp/Drain+Keys+(PAS4500).html
If your drain is the "Plunger" type and it won't stay down, all you have to do is replace the lever (it's not staying in place because it's old).

Dear Marianne:
If your tub still won't drain after you remove linkage assembly and stopper, you probably have a clog. You can snake the tub drain if you remove the drain. However, you can also snake through where the linkage came out. Snaking is always a little risky because it could break plumbing if it's old, rusty and brittle. Try bleach if you believe the clog is from hair and soap scum, etc. However, if you use Drano or these other types of products over time, the metal will eat away and your stopper may not work so well and you can develop slow leaks from your plunger drain when taking a bath over time. (11/24/2005)
By lex
Fixing a Bathtub Drain
I have a plunger type drain and I can't push the lever on the wall down to empty the water in the tub? I'm not sure what to do. Any ideas?

Editor's Note:
Here's a good link showing how to fix the mechanism:
http://www.hgtv.com/hgtv/remodeling/article/0,1797,HGTV_3659_1924110,00.html (12/14/2006)
By Kay
Fixing a Bathtub Drain
Check with your local hardware store. Sometimes they rent these tools. (01/14/2007)

By Gail
Fixing a Bathtub Drain
I just bought a new drain for my tub. I removed the old drain, but when I tried to screw in the new one, it will not screw down all the way. I looked down inside where it screws into and removed a rubber ring from below the tub. Should I have done that? What should I do to complete the job?

Editor's Note: First I'd check to see if the new drain is the same length as the old one. If the new one is longer, that could be the problem. The rubber ring below the tub keeps it from leaking so it is very important. I'd say you should put in a new one with the new drain. You don't want the tub dripping either to the floor below or into the basement or crawl space. (02/01/2007)
By Jeremiah
Fixing a Bathtub Drain
My house is 20 years old. As I removed my old bath tub drain, all the pipe assembly has disappeared below the bath tub. I cannot reach them and I think they may be broken so I presume I would have to replace all the pipes. Now the sides of the bath tub are wall to wall and I have no clue how to get to it without removing whole bath tub. It is upstairs and there is a closet on the other side of the wall where the pipes are, and there is another bathroom under. I would guess there must be some way to access it just in an emergency without ripping whole tub out. Any idea?
Editor's Note: Is it a fiberglass or enamel tub? If it is fiberglass, it is actually behind the sheet rock and it's a big job to take one out. (02/05/2007)

By Frank
Fixing a Bathtub Drain
I was able to correct the problem. After removing the plate, check to see if the u-shaped metal spring is not twisted and is still putting pressure (resistance) on the lever. It should look like the attached picture. (02/25/2007)

By Paul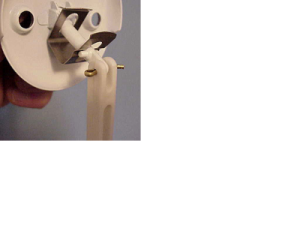 Fixing a Bathtub Drain
Thanks Plumber! I removed the plate, the pin, pulled the spring open wider and replaced everything. Since the plate had been there awhile, I also put some plumbers putty on the face plate and trimmed away the excess so there would not be any leaking water through there in the future into the crawl space below. Worked like a charm. Now I can use the washcloth for what it's supposed to be used for... washing! Thank you for the helpful advise! (07/08/2007)

By Mary Ellen
Leaking Bathtub Drain
My roller ball type bathtub drain leaks. After removing the chrome drain it looks to be too short to thread into the PVC drain pipe. There is an awful lot of putty so it looks like the builder packed it to hold out a few years. Does anybody sell longer drains? My tub is a soaker that looks pretty thick. I can't get under it without ripping up the bathroom.
Pardon my poor graphic but this is roughly what is going on. (01/02/2008)

By Michael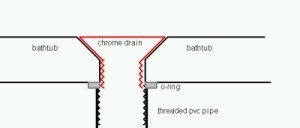 Fixing a Bathtub Drain
Rather than using a wire coat hanger to fish out plunger, which is attached to threaded bolt (it's this threaded bolt that the water release lever is attached to, which invariably works itself free over years of use), use a long needle nose pliers, jiggle it around a bit and it comes right up along with the plunger (which actually stops the water in the tub), then you can reattach the face plate unit that screws onto the threaded part that goes down into the inside wall of the drain. While you have the plunger out you might want to check it and see if it needs to be changed. These things seem to last forever for they are designed only for one thing and it's to let water stay in the tub or let it out. Happy plumbing! (07/04/2008)

By Syl
Fixing a Bathtub Drain
We bought a house where the builder apparently tried to cut costs by not properly installing mounting studs in the wall to firmly secure the main tub valve assembly to. When the fiberglass tub/shower assembly was installed there was no support for the valve cover plates and the shower wall distorted, leaving a crack between the shower wall and the cover plates. When we took a shower, water splashed on the wall and leaked behind this crack. After replacing the downstairs ceiling a couple of times I finally figured this out and solved it simply by running a bead of silicone caulk around the face plates and the tub fill spout and overflow cap. It is a lot cheaper than tearing out the tub/shower and installing it again the way it should have been done in the first place. (07/12/2008)

By Richard
Fixing a Bathtub Drain
Can someone post a detailed drawing of the bathtub assembly. Our Jacuzzi tub is leaking when we run water and we have no access to the pipes (save a small gap for blindly feeling the pipes with our finger tips). It is in one corner with vanity walls butting against it. We may have to rip the bathroom to get to the pipes. I have already removed the drain flange and sealed with plumber's putty. I now suspect it is somewhere between the shoe and the other pipes. I sound knowledgeable in using these words; in reality I have no clue! Please help. tinfish2003 AT yahoo.com Thanks
(09/08/2008)

By tinfish
Fixing a Bathtub Drain
We also searched for a link from our upstairs bathtub for several years. It turned out the tub was fine. It was a small crack in the lead pipe about 3 feet from the tub. I would look at exactly what is above the point in the ceiling where the water is coming through. It may not be your tub at all. (09/13/2008)

By zam
Fixing a Bathtub Drain
Thank you Paul, for the simple fix. (09/21/2008)

By brad
Fixing a Bathtub Drain
Thank you all for the advise about the U spring behind the drain lever, especially Paul the pic was really helpful, off to home depot tomorrow! (12/13/2008)

By amateur
Fixing a Bathtub Drain
I have a similar problem. I have a 15-year-old house and need to replace my bathtub drain because it broke. It is the type that the drain plug stays permanently attached to the crosshairs (or screws in), and drops down with a slight twist to block the drain (no lever involved). Someone dropped something on it, and the metal crosshairs broke, causing it to be down all the time (or have to be removed). The lip of the drain cracked at the same time. The guy at Home Depot said I could remove it with pliers and screwdrivers, after first prying up the lip with screwdrivers... but the lip was brittle and cracked off, as were the crosshairs... leaving jagged metal edges around the drain, not to mention chipping off enamel around the drain.
So, I ordered a drain key from AZPartsmaster.com and bought two big wrenches. No matter what I do, I cannot get the drain to turn loose, even after letting WD40 work on the drain for a while. Any chance it was put in with an epoxy that melted it to the pipe? I read that dissolving epoxies requires extremely harsh chemicals that could harm downstream plastic pipes, but that most epoxies break down at 400-500 degrees... should I find something to apply that kind of heat with? Would I damage the enameled tub or any possibly plastic pipes nearby? Alternative ideas? (12/30/2008)
By Kristen
Fixing a Bathtub Drain
Try dissolving the mineral deposits that are holding the drain basket with C.L.R. before using the harsh chemicals. I had a tough drain basket to remove as well and was bending the cross hairs. Finally got a drain basket removal tool ($10.00) and with some elbow grease, got the basket to turn, once started, the rest was easy. After I removed it, it was caked with mineral deposits, mostly calcium. (01/23/2009)

By Basket case