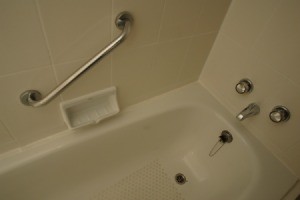 I bought a new tub surround and now the existing tub looks very discolored. What can I use to clean a discolored tub?
By andie from Cleveland, OH

Answers

January 5, 2011
2

found this helpful
I'd suggest trying GooGone. Our fiberglass tub had done the same thing and one day, while I was recaulking the tub, I accidentally knocked over a bottle of GooGone. I wiped it up right away and was surprised to see that the tub was white where the liquid had spilled.

January 16, 2011
1

found this helpful
My husband and I are moving into a new rental house and in the hall bathroom the tub was awful! It had years of some kind of black grime on it, looked like it had never been cleaned and the landlord thought he'd have to get it rebathed. I told him I could get that stuff off with a little elbow grease. I used full strentgh Purple Power and a sponge.
Poured it on the sponge and wiped it down, it looks brand new! I also used it to clean the carpet, which was also very dirty and had some heavy duty dirty spots. I put Purple Power, about a 1/4 cup and the rest water in the shampooer, spots are gone and the carpet is clean!

March 28, 2013
0

found this helpful
Well, we bought a brand new double wide 18 years ago, and we have re-done every single room in our house. No more strips....all drywall....wainscott, chair rail, baseboards, quarterr round arounnnnd the fireplace and just finished putting bead board up in our room and painted it a deep red color. Bought new comforter set and new curtains. Just finished putting down wood floors in our bedroom also, and got new throw rugs for each side of the bed. Can't wait til I am done with it all. Really looking forward to seeing it all done. :-)
But the garden tub in master bath has skylight above it and it has the most terrible stain in it. First just discolored a little, now big black ring from bottom of tub to about 4 inches above bottom. I have tried CLR, didn't work....comet, didn't work....bleach, didn't work. It's like the discoloration in all the way through the fiberglass round garden tub. I give up. Anyone have any suggestions? or even something that has been proven to work? I can not stand this.. It looks horrible. Looks like it hasn't been cleaned in months.....and it has. lol....Anyone?

August 15, 2016
0

found this helpful
Where do you get Purple Power? Thanks

August 6, 2018
0

found this helpful
You can get purple power at Wal-Mart

August 30, 2018
0

found this helpful
Dollar general, I use it often in my cleaning business as a degreaser
April 23, 2019
0

found this helpful
Well I've tried everything else might as well try that
Answer

this Question

I moved into a rental house and the bathtub color is pink not white. I noticed that a discoloration started to form on the sides, like a grayish white.
I tried the Magic Eraser, Clorox beach for bathrooms, baking soda, and dish soap.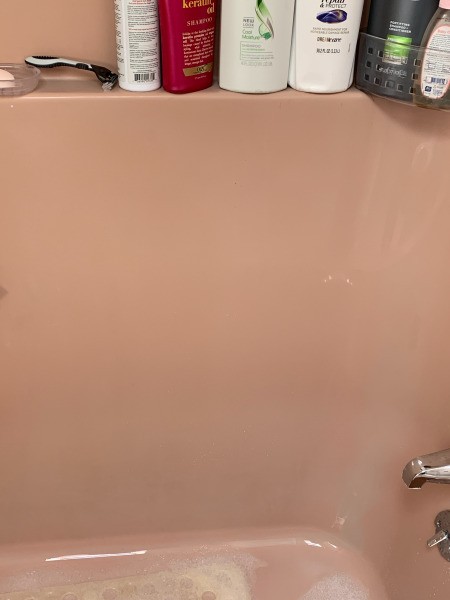 I don't know what else to get rid of the color.
Answers

attosa
Diamond Post Medal for All Time! 1,246 Posts
July 16, 2019
0

found this helpful
We started using a pumice stone and it's been great.

Judy
Gold Post Medal for All Time! 677 Posts
July 16, 2019
0

found this helpful
Try Barkeepers Friend.

July 16, 2019
0

found this helpful
Sometimes just spraying (or pouring) white vinegar on the spots every night will gradually remove them and keep them from returning. Same thing with discoloration in the commode.
I have also used Soft Scrub and it sometimes works, Let any product you try sit on the spots for at 15 to 20 minutes before scrubbing. and rinsing.

July 16, 2019
0

found this helpful
C R L , you can buy at dollar general. You pour some on scrub a little and let it sit for like 30 mins then scrub some more and it should do the trick trust me it's better then bleach and all others
March 20, 2020
0

found this helpful
I have tried CLR. I can't tell that it cleans anything. Wasn't worth buying.
Answer

this Question