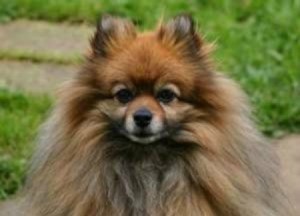 Breed Description:
The Pomeranian is the smallest member of the German spitz breeds. Characteristics include a compact body, long, thick coat, a lion-like mane and a striking plumed tail. These little dogs are friendly and active. Their intelligence and docile, yet playful, temperament make them ideal companions.
Group: Toy Group
Purpose of Breed: Companion
Country of Origin: Germany
Average Size: Ranges from 8-12 inches and 4-5 1/2 pounds.
Color(s): Typically red, orange, white or cream, sable, brown, blue or black. Pomeranians could also be parti-colored.
Coat Type: Pomeranians are well-known for their double coat. The undercoat is soft and dense and the outer coat is long, straight and has a harsh texture.
Grooming: The Pomeranian's coat requires daily brushing to prevent it from matting. This breed requires standard care for eyes, ears, pads and nails.
Exercise Needs: This is an active breed suited for all living environments providing they get adequate exercise and plenty of opportunities for play.
Temperament: This is an inquisitive, lively and playful breed. Clever and naturally entertaining, they enjoy attention and being the center of attention. This breed is very intelligent and excels at learning tricks. The Pomeranian is also an excellent watch dog. It has a large, deep bark for its small size.
Common Ailments: Susceptible to patella luxation and early tooth loss.
Life Expectancy: Averages 12-16 years.
Trivia: Pomeranians are the descendants of the sled dogs of Lapland and Iceland.
More Information: American Pomeranian Club, Inc.